Why The CheeseCake Factory Inc Stock Popped 32.8% in 2016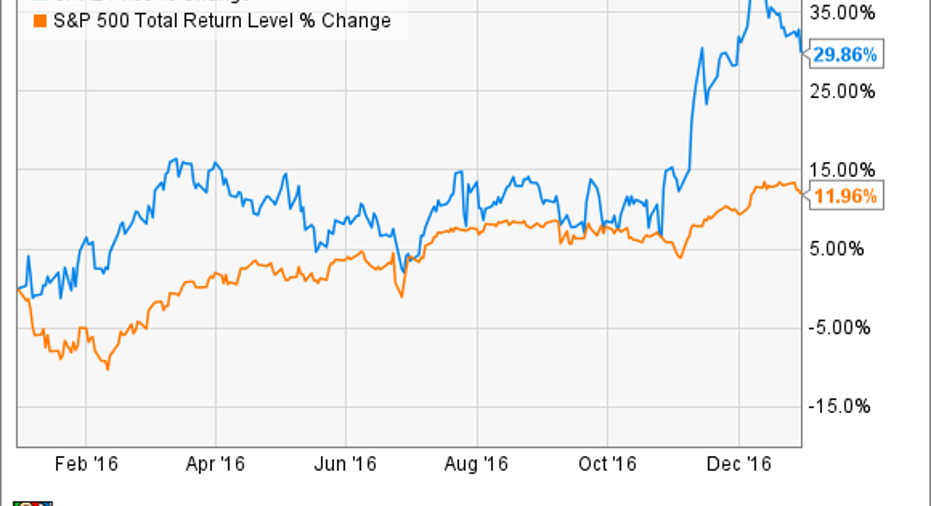 Image source: The Cheesecake Factory, Inc.
What happened
Shares ofThe Cheesecake Factory(NASDAQ: CAKE) jumped 32.8%in 2016, according to data provided byS&P Global Market Intelligence, primarily thanks to optimism surrounding the results of the U.S. presidential election.
So what
To be sure, The Cheesecake Factory investors enjoyed only modest gains last year through the end of October. But when it became clear that Donald Trump had won the election in November, the market could hardly contain its excitement for what that would mean for the company:
For one, as fellow Fool Sean Williams pointed out in November, a significant part of Trump's economic plan involves reducing and simplifying individual income taxes. As such, it seems likely that casual dining chains like The Cheesecake Factory will stand to benefit from any resulting additional discretionary income households might gain.
We should also note that Trump spent a significant amount of time during his early campaign suggesting he was largely opposed to minimum wage hikes. And though he softened that stance in the months immediately before the election, even then he expressed a desire to leave any hikes to the minimum wage up to each individual state rather than regulating them through a wider-reaching federal mandate. Moreover, Trump has nominated Andy Puzder -- a longtime fast-food executive and opponent of minimum wage increases -- to be his Secretary of Labor. And keeping minimum wages in check allows more of each dollar to fall to casual dining chains' bottom lines.
Now what
Investors will need to wait until next month's fiscal fourth-quarter 2016 report to receive more specific color on the company's forward expectations. But for now, the changing political landscape appears to be largely in favor of restaurants like The Cheesecake Factory. So, it's no surprise Cheesecake Factory shares popped to end 2016.
10 stocks we like better than The Cheesecake Factory When investing geniuses David and Tom Gardner have a stock tip, it can pay to listen. After all, the newsletter they have run for over a decade, Motley Fool Stock Advisor, has tripled the market.*
David and Tom just revealed what they believe are the 10 best stocks for investors to buy right now...and The Cheesecake Factory wasn't one of them! That's right -- they think these 10 stocks are even better buys.
Click here to learn about these picks!
*Stock Advisor returns as of January 4, 2017.
Steve Symington has no position in any stocks mentioned. The Motley Fool has no position in any of the stocks mentioned. The Motley Fool has a disclosure policy.