Why The Buckle Inc. Stock Dropped 26.1% in 2016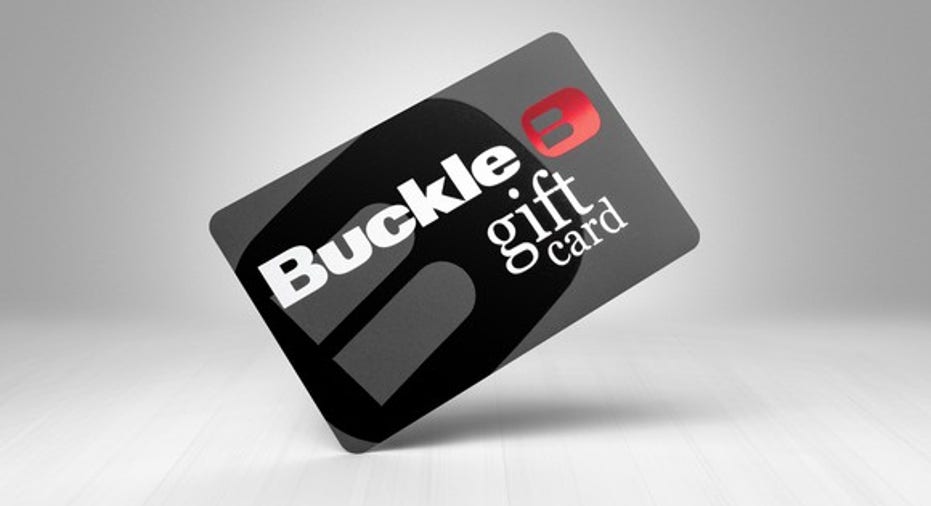 IMAGE SOURCE: The Buckle, Inc.
What happened
Shares ofThe Buckle Inc.(NYSE: BKE)declined 26.1% in 2016,according to data provided byS&P Global Market Intelligence, as the fashion retailer posted consistently declining comparable-store sales amid a difficult retail environment.
So what
That's not to say the entire year was painful. In fact, the Buckle appeared to be on track to handily beat the market through the end of March, thanks largely to an upbeat report early that month covering the chain's 2015 holiday-quarter performance.
But shares took their first big tumble in early April, falling 12% in a single dayafter the company confirmed same-store sales for the five weeks ending April 2, 2016 had declined by a worse-than-expected 11.8%. That trends only persisted: Same-store sales fell 13.2% in April, dropped 11% in May, and slumped 10.6% in June. Fast-forward to equally underwhelming results in the ensuing months, and The Buckle's resulting share price declines were all but inevitable.
Now what
The Buckle declined to offer a specific sales forecast for the 2016 holiday quarter. But it did confirm in early December that its November comparable-store net sales declined 16.2% year over year, indicating the retailer's struggle to keep cost-conscious consumers engaged given its higher prices relative to competitors is ongoing.
To be fair, The Buckle should offer more insight on its progress when it releases December comparable sales data in the coming days, as well as with its 2016 holiday-quarter results, which are expected early next month. But with comparable-store sales down 12.5% through the first three reported quarters of the year, along with a 3.7%declinein online sales over the same period, it's hardly surprising that The Buckle stock came unraveled in 2016.
10 stocks we like better than The Buckle When investing geniuses David and Tom Gardner have a stock tip, it can pay to listen. After all, the newsletter they have run for over a decade, Motley Fool Stock Advisor, has tripled the market.*
David and Tom just revealed what they believe are the 10 best stocks for investors to buy right now... and The Buckle wasn't one of them! That's right -- they think these 10 stocks are even better buys.
Click here to learn about these picks!
*Stock Advisor returns as of January 4, 2017
Steve Symington has no position in any stocks mentioned. The Motley Fool has no position in any of the stocks mentioned. The Motley Fool has a disclosure policy.