Why the Boston Beer Company, Inc. Stock Fell 15.9% in 2016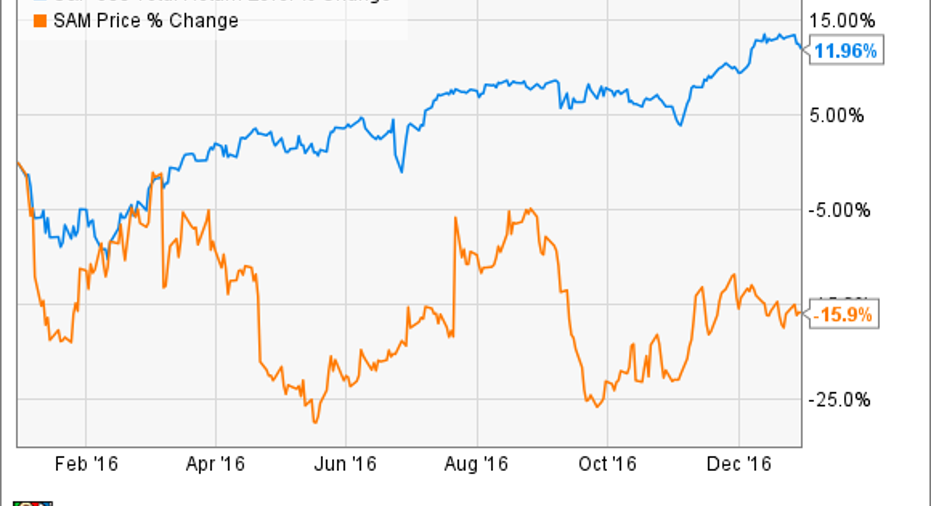 IMAGE SOURCE: The Motley Fool.
What happened
Shares of The Boston Beer Company Inc.(NYSE: SAM)declined 15.9% in 2016,according to data from S&P Global Market Intelligence, as the craft brewer struggled to grow its share of the increasingly competitive craft-beer market.
So what
It didn't help that Boston Beer stock quickly plunged almost 20% by mid-January, as the broader market suffered a historically painful start to the year. And shares were already reeling after the company issued disappointing forward guidance in October 2015, with management citing intensifying competition and a slowing in the formerly high-growth cider category.
However, Boston Beer stock had all but recouped those early losses by the beginning of March -- that was, at least until a pair of negative analyst notes caused the stock to pull back 13% on March 8 alone, with both reiterating concerns including weakness in Boston Beer's flagship brews and increased fragmentation of the craft-beer category.
That's not to say those concerns were new. Only a month earlier, Boston Beer founder and chairman Jim Koch had warned, "We believe we have lost share, as new craft brewers enter the market and more existing craft brewers are expanding their regional distribution, with the result that drinkers are seeing more choices, including a wave of new beers in all markets."
Sure enough, those concerns proved to have merit in April, when Boston Beer once againlost market sharegiven increased competition and slow starts for some of its newer beer launches. And even as shares subsequently surged higher after a slightlybetter-than-expected second-quarter reportin July, Boston Beer still saw revenue that quarter decline 2.9% year over year on significantly weaker-than-expected depletions trends (a key measure for how fast Boston Beer's products travel from warehouses to consumer outlets).
Finally, shares plunged yet again in September thanks to a combination of concerns over beer industry dynamics, among themthe potential disadvantages brewers like Boston Beer could face given the impending megamerger between Anheuser-Bush InBevand SAB Miller. With that merger officially completed in October 2016, the combined brewing industry juggernaut now boasts a nearly 50% market share of U.S. beer sales.
Now what
But with their company enjoying a long runway for potential growth with less than 2% share of the same market, Boston Beer investors shouldn't lose hope just yet.
In Boston Beer's most recent quarterly report in October, Koch noted that retailers are actually cutting SKUs in the beer aisle as they realize further crowding the category is only creating consumer confusion rather than driving incremental revenue. And the biggest beneficiaries of this "less is more" approach, Koch says, should be the more established craft brands with strong rotating beer lineups, such as Boston Beer and its subsidiaries.
Add to that the completion of a comprehensive review of Boston Beer's brand messaging and packaging last quarter -- which contributed to a major packaging update being shipped for its flagship Boston Lager variety last quarter -- and Boston Beer might just be ready to turn the corner in 2017. With shares still down significantly from their 52-week high, I think Boston Beer is presenting long-term investors with a compelling buying opportunity.
10 stocks we like better than Boston Beer When investing geniuses David and Tom Gardner have a stock tip, it can pay to listen. After all, the newsletter they have run for over a decade, Motley Fool Stock Advisor, has tripled the market.*
David and Tom just revealed what they believe are the 10 best stocks for investors to buy right now... and Boston Beer wasn't one of them! That's right -- they think these 10 stocks are even better buys.
Click here to learn about these picks!
*Stock Advisor returns as of January 4, 2017
Steve Symington has no position in any stocks mentioned. The Motley Fool owns shares of and recommends Anheuser-Busch InBev NV and Boston Beer. The Motley Fool has a disclosure policy.