Why The Boston Beer Co., Inc. Stock Dropped 15.7% in April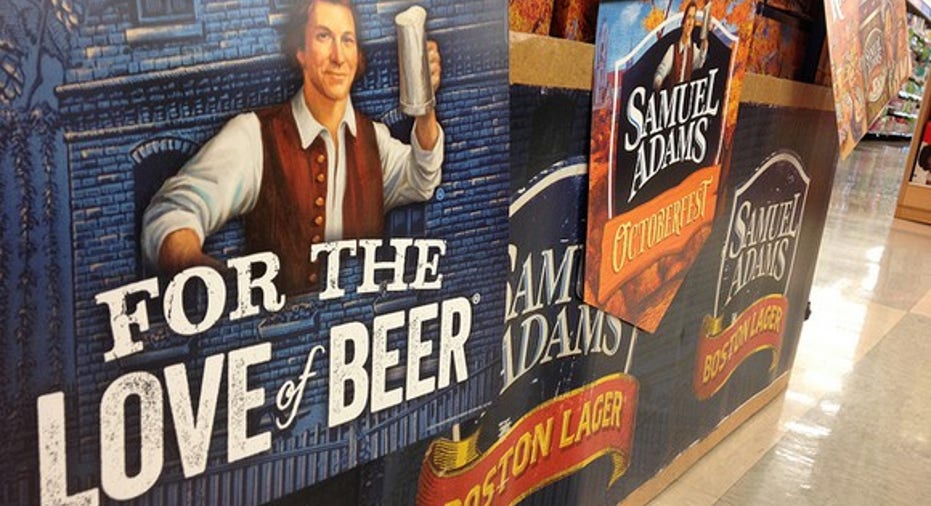 What:Shares of Boston Beer Co. fell 15.7% in the month of April,according to data provided byS&PGlobal Market Intelligence, after the craft brewer admitted it lost market share for the second straight quarter. As of this writing, Boston Beer stock has fallen more than 23% year to date and sits within a bottlecap of a fresh 52-week low.
So what:More specifically, the bulk of Boston Beer's decline happened in a single day last month after it revealed that first-quarter revenue fell 5% year over year, to $188.8 million, as planned price increases were more than offset by a 6% decline in core shipment volume, to 830,000 barrels. That resulted in a steep 48.8% decline in net income, to $7 million, or $0.53 per diluted share.
Boston Beer also saw depletions -- a key industry measure for how quickly its product travels from warehouses to consumer outlets -- decline 5% from last year's first quarter. According to Boston Beer CEO Martin Roper, this result fell "significantly" short of the company's expectations, led by declines from its core Samuel Adams and Angry Orchard brands.
Jim Koch, Boston Beer's founding chairman added, "We believe Samuel Adams has lost share due to the increased competition and continued growth of drinker interest in variety and innovation."
That perspective echos comments made by Koch three months earlier, when he noted depletions trends were softening even as the company's "better beer" and craft categories appeared to remain healthy. At the time, Koch also pointed out that new craft brewers were entering the market even as existing craft brewers continued to expand distribution. Of course, that's great for beer drinkers searching for new, high-quality options. But it's bad -- at least in the near term -- for established brewers looking to gobble up a larger share of this burgeoning market.
Now what:Still, the news wasn't all bad. Boston Beer is seeing increased momentum for new beers rolled out during the quarter, including its smooth Samuel Adams Nitro varieties and Rebel Grapefruit IPA. And as the company works to reverse a decline in the cider category that began in late 2015 after years of outsized growth, Roper insisted, "We believe the recent declines are not indicative of long-term cider category potential, and are happy that Angry Orchard has maintained a very high share level."
Nonetheless, Boston Beer had no choice but to reduce its depletions and shipments guidance for the full year to a range of a 4% decline to 2% growth, compared to its preview view for the metrics to increase in the mid-single-digit percent range. Boston Beer is also scaling back planned increases in advertisement, selling, and promotional expenses and will focus on reducing costs to levels more appropriate for its lower volume expectations so it can focus on making strategic investments in categories with the highest potential growth.
In the end, that may be frustrating for investors with a short-term view of the business. But for long-term shareholders willing to watch Boston Beer patiently work to make the most of this beer boom, I think the stock at today's levels could prove a mouthwatering bargain.
The article Why The Boston Beer Co., Inc. Stock Dropped 15.7% in April originally appeared on Fool.com.
Steve Symington has no position in any stocks mentioned. The Motley Fool owns shares of and recommends Boston Beer. Try any of our Foolish newsletter services free for 30 days. We Fools may not all hold the same opinions, but we all believe that considering a diverse range of insights makes us better investors. The Motley Fool has a disclosure policy.
Copyright 1995 - 2016 The Motley Fool, LLC. All rights reserved. The Motley Fool has a disclosure policy.