Why the Best Is Yet to Come for Franco-Nevada Corporation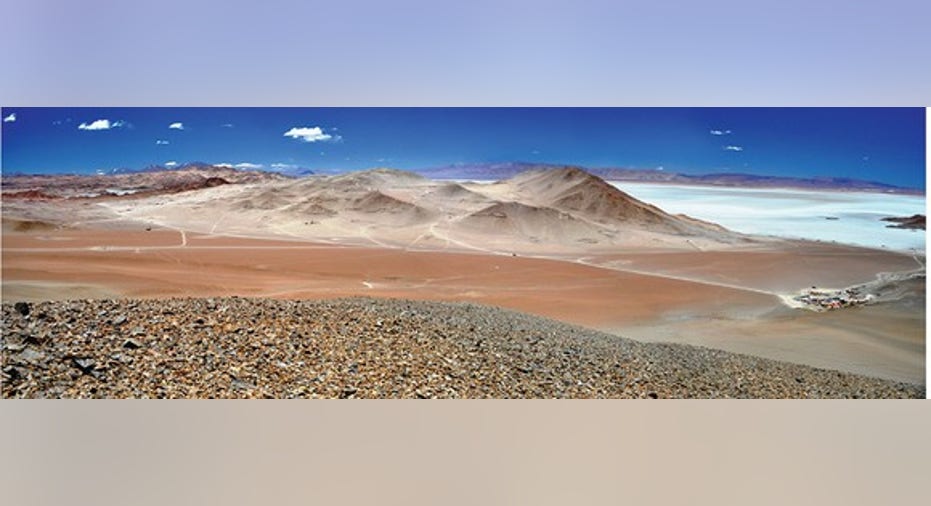 Investors appreciate Franco-Nevada (NYSE: FNV) for the way it does business, with returns that are tied to the price of gold and other precious metals but without the exposure of actually owning and operating mining operations directly. Instead, Franco-Nevada enters into streaming arrangements and royalty agreements with mining-company partners, providing financing in exchange for the right to purchase future production at a dramatic discount. That business model has been highly lucrative for Franco-Nevada already, but early success can lead to further growth down the line as the projects in which the company invests reach full capacity.
How Franco-Nevada grows over time
The most obvious source of growth for Franco-Nevada comes when it enters into new streaming or royalty arrangements. When that happens in connection with a mine that is already at peak production, Franco-Nevada gets an immediate bump in the flow of precious metals through its operations, with amounts depending on the specific terms in the agreement.
Image source: Franco-Nevada.
However, more frequently, Franco-Nevada's agreements with its mining partners involve projects that are either in early phases of development or have not yet reached their full production potential. When that happens, the streaming company doesn't necessarily see an immediate payoff from its investment, but it sets the stage for future growth as the mine gets developed.
You can see several examples of this type of investment in Franco-Nevada's most recent quarterly results. For instance, the company said that Kinross Gold (NYSE: KGC) had received a record of decision in connection with its U.S. Bald Mountain property that will allow the miner to increase exploration activity and potentially expand the mine. That in turn could pay dividends in the future, given Franco-Nevada's 0.875% to 5% royalty interest on the property.
Similarly, Stillwater Mining (NYSE: SWC) told Franco-Nevada that it now expects its Blitz project to reach production of 270,000 to 330,000 ounces of platinum-group metals by 2021 to 2022, at which point Stillwater expects full capacity. That's higher than the 150,000 to 200,000 ounces that Stillwater originally anticipated.
Better mining performance is a win-win for Franco-Nevada and its partners
Franco-Nevada also benefits when things go better with mature mining operations than miners expected. For instance, with the newly added Antamina mine in Peru, Franco-Nevada's silver stream was projected to produce 40,000 gold-equivalent ounces during 2016. However, even just three quarters into the year, the project had delivered close to 50,000 gold-equivalent ounces, boosting the streamer's profits.
In some cases, miners' investments in a project benefit Franco-Nevada as well. A good example is with the Sabodala project in Senegal, where Teranga Gold recently optimized its mill operations. The company expects throughput to rise by 15%, leading to production increases that should boost the volume of precious metals delivered according to Franco-Nevada's agreement with the mining company.
Why the future looks bright
Finally, Franco-Nevada can expect to benefit when conditions in the precious metals markets improve. The slump in gold and silver prices during the early to mid-2010s was difficult for many mining companies, and operators with high production costs suddenly found themselves unprofitable under new market conditions. As prices increase, however, it makes investment in existing properties more lucrative, and that in turn can help Franco-Nevada both by providing new opportunities for financing and by boosting the volume of gold, silver, and other natural resources that it receives as compensation under its agreements.
Franco-Nevada has already been a rewarding investment for longtime shareholders, but the royalty and streaming specialist has plenty of future growth opportunities. By creating close partnerships with mining companies whose interests are directly aligned with its own financial success, Franco-Nevada ensures that it can fully share in the gains when the precious-metals mining sector ramps up and experiences good conditions in the commodities markets.
10 stocks we like better than Franco NevadaWhen investing geniuses David and Tom Gardner have a stock tip, it can pay to listen. After all, the newsletter they have run for over a decade, Motley Fool Stock Advisor, has tripled the market.*
David and Tom just revealed what they believe are the 10 best stocks for investors to buy right now... and Franco Nevada wasn't one of them! That's right -- they think these 10 stocks are even better buys.
Click here to learn about these picks!
*Stock Advisor returns as of February 6, 2017
Dan Caplinger has no position in any stocks mentioned. The Motley Fool has no position in any of the stocks mentioned. The Motley Fool has a disclosure policy.