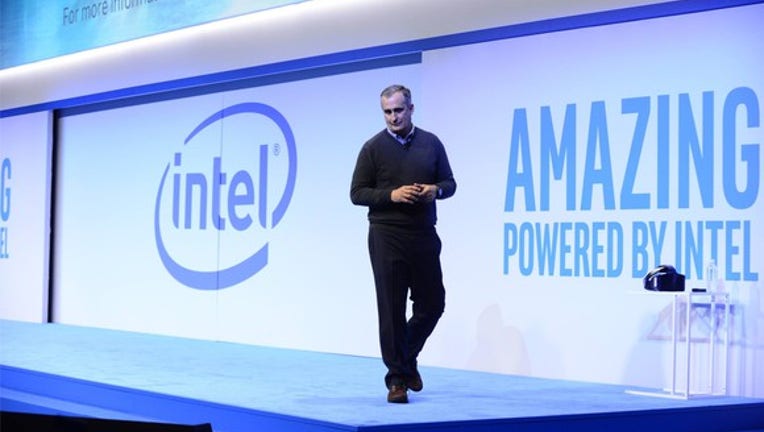 Shares of Intel (NASDAQ: INTC) fell more than 3% on April 28 after the chipmaker posted a mixed first quarter earnings report. Revenue rose7% annually to $14.79 billion, narrowly missing expectations by about $20 million. Earnings grew 22% to $0.66 per share, beating estimates by a penny.
Those headline numbers weren't terrible, but several troubling headwinds likely gave the bears enough reasons to bet against the stock, which has stayed flat since the beginning of the year. Let's examine four reasons why the bears could be right about Intel's future.
Intel CEO Brian Krzanich. Image source: Intel.
1. AMD strikes back
Intel's Client Computing revenue rose 6% annually to $8 billion thanks to rebounding sales of PCs. However, the arrival ofAMD's (NASDAQ: AMD) next-gen Ryzen chip in early March represents a dangerous new threat to Intel's current-gen Kaby Lake processors.
AMD's benchmarks claim that the top-tier Ryzen 7 1800X matches the 8-core Intel Core i7-6900K in terms of single-threaded performance and beats it by 9% in terms of multi-threaded performance -- for half the price. Since the Ryzen is arriving at a time when PC sales are gradually recovering, many desktop owners might upgrade to systems powered by AMD's processors instead of Intel's.
Intel plans to launch its new Coffee Lake processors later this year, but it's unclear if those chips -- built with the same 14nm manufacturing process as Kaby Lake and Ryzen -- can effectively compete against AMD's chips. Intel's next-gen 10nm Cannonlake chips are expected to arrive by the end of 2017, but theiractual specs remain sketchy. To top it all off, AMD will soon launch its Naples server processor -- which hasmore cores and memory channels than Intel's Purley CPU -- to challenge Intel's dominance of the data center market.
2. Qualcomm's big moves
AMD isn't the only chipmaker causing headaches for Intel. Mobile chipmaker Qualcomm (NASDAQ: QCOM) also recently collaborated with Microsoft (NASDAQ: MSFT) to makeWindows 10 compatible with its top-tier Snapdragon processors, which indicates that more Snapdragon-powered PCs and 2-in-1s could hit the market soon.
Qualcomm also recently launched Centriq 2400, a 64-bit ARM-based processor for servers. Once again, Microsoft lent a helping hand byporting Windows Server to the chip. This development is significant, since the Centriq is a 10nm chip. Intel's 10nm Xeon server chips aren't expected to arrive until next year.
Unlike older ARM-based server chips, which specialized in niche tasks instead of directly competing against Intel's powerhouse Xeons, Qualcomm believes that the Centriq can go toe-to-toe with Intel's flagship server chips.
3. Data center blues
The fresh competition from AMD and Qualcomm cast a spotlight on the worst figure from Intel's first quarter report -- its Data Center revenues rose just 6% annually to $4.2 billion, missing analyst expectations of$4.35 billion. That's also well below the double-digit annual sales growth which the company claimed that it could achieve back in late 2015.
To make matters worse, the Data Center Group's operating margin fell about nine percentage points annually to 35.1% for the quarter, due to increased investments in developing new 10nm manufacturing processes. Intel expects that dip to be temporary, and it expects operating margin for the group to remain between 40%-45% for the year, but that still represents a reduction from its previous forecast of 45%-50%. Those slumping revenues and declining margins could put Intel in a tough spot as AMD, Qualcomm, and others smell blood.
4. Overpaying for Mobileye
Intel recently agreed to buy Mobileye (NYSE: MBLY), the world's leading maker of ADAS (advanced driver assistance systems), for over $15 billion. That price was painfully steep, since the company generated just $358 million insales last year.
Intel bought Mobileye because it was clearly falling behind in the connected car market. NVIDIA's (NASDAQ: NVDA) Tegra had established a first-mover's advantage in connected cars, which served as a foundation for launching its Drive PX driverless platform. Qualcomm, meanwhile, will soon become the world's biggest maker of automotive chips after its acquisition of NXP Semiconductors (NASDAQ: NXPI) closes.
Intel previously launched Atom Automotive chipsfor cars, but those chips never gained as much traction as NVIDIA's or NXP's chips. While it can be argued that Intel needed to buy Mobileye, the all-cash deal willdrain its overseas cash (nearly $14 billion at the end of 2016) and greatly reduce its free cash flow ($11.3 billion over the past 12 months). Furthermore, there's no guarantee that buying Mobileye will help Intel counter NVIDIA, whichgained Teslaas a Drive PX 2 customer after a fatal crashinvolving a Mobileye-powered Autopilot platform.
The key takeaways
Intel probably won't nosedive in the near future, but it probably also won't rally. The company is seemingly slipping behind the tech curve with the ongoing delays of its "tick tock" launch schedule, and it seems ill-prepared to fend off ambitious challengers like AMD and Qualcomm. Therefore, Intel might look like a safe mature tech play with a decent 3% yield, but investors should be wary of the tough headwinds it faces.
10 stocks we like better than IntelWhen investing geniuses David and Tom Gardner have a stock tip, it can pay to listen. After all, the newsletter they have run for over a decade, Motley Fool Stock Advisor, has tripled the market.*
David and Tom just revealed what they believe are the 10 best stocks for investors to buy right now... and Intel wasn't one of them! That's right -- they think these 10 stocks are even better buys.
Click here to learn about these picks!
*Stock Advisor returns as of April 3, 2017
Teresa Kersten is an employee of LinkedIn and is a member of The Motley Fool's board of directors. LinkedIn is owned by Microsoft. Leo Sun owns shares of Qualcomm. The Motley Fool owns shares of and recommends Nvidia, Qualcomm, and TSLA. The Motley Fool recommends Intel and NXP Semiconductors. The Motley Fool has a disclosure policy.