Why the 2018 GMC Terrain Is a Big Deal for General Motors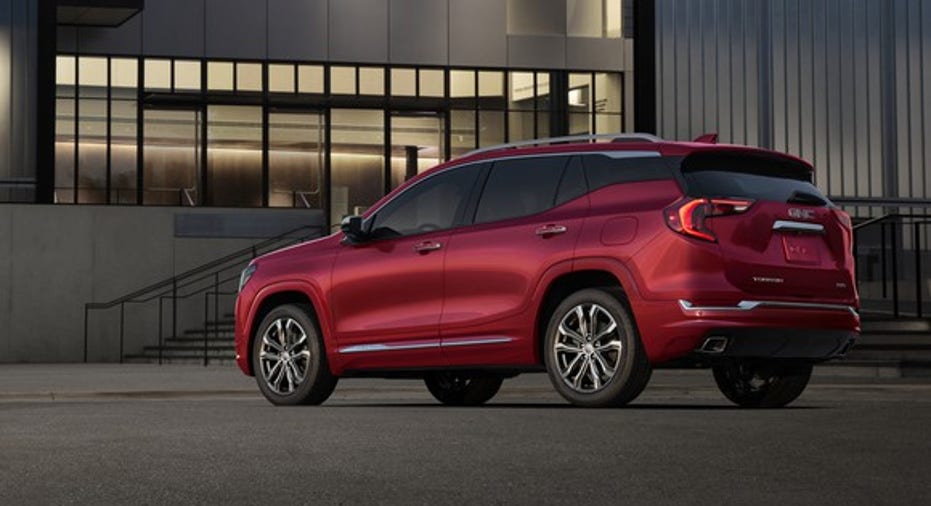 GM showed off the all-new 2018 Terrain in base (left) and upscale Denali (right) versions on Sunday. Image source: General Motors.
General Motors (NYSE: GM) unveiled the all-new 2018 GMC Terrain at an event in Detroit on Sunday. The new compact SUV is the successor to one of GMC's best-sellers, and it debuts a new design language for the upscale truck brand.
A not-too-big upscale crossover SUV
The Terrain is GMC's smallest SUV, with seating for five. It's a crossover, meaning that it's built in unibody fashion (like a sedan) rather than on a separate truck-style chassis. It's a close mechanical sibling to the huge-selling Chevrolet Equinox. Like other GMC models, the new Terrain will be offered in an upscale Denali trim with a long list of premium features.
Like the Equinox, the 2018 Terrain is "all-new," which in industry jargon means it has been completely redesigned. Following the lead of other recent new products from GM (including the new Equinox), the new Terrain is 400 pounds lighter than the outgoing model, and it sports a new range of fuel-efficient turbocharged engines -- including a diesel -- paired with a new nine-speed transmission. It's also a little smaller than the outgoing model, at least on the outside.
As with other recent GM products, the new Terrain's interior received close attention and high-quality materials. Image source: General Motors.
Inside, the overall level of trim has been taken upscale, with premium materials, well-integrated technology touches, and an overall high level of fit and finish, at least in the preproduction vehicles here at the North American International Auto Show.
About those powertrains: A turbocharged 1.5-liter four-cylinder gasoline engine making 170 horsepower is standard, with a sportier 2.0-liter turbo (252 horsepower) and the new 1.6-liter four-cylinder turbo-diesel (137 horsepower, 240 foot-pounds of torque) optional. There's no V6 option: GM says that the diesel offers equivalent towing capacity to the current model's V6 (3,500 pounds).
GM didn't announce pricing for the new Terrain. My somewhat educated guess is that the starting price will be close to the current model's $24,070, but a loaded Denali will come in higher than today's model, likely well over $40,000.
Why it's important to GM investors
The Terrain has been a huge seller for GMC, but the current model, introduced way back in 2009, was overdue for a rethink. Buyers were noticing: 2016 sales were still strong enough to account for over 16% of GMC's U.S. sales total, but they were down over 21% from 2015 levels.
The new Terrain should reverse that trend when it begins arriving at dealers this summer. Frankly, it's a big and overdue leap forward. Its upscale and up-to-date look makes a much better impression than the outgoing model, particularly in Denali trim. That may sound like marketing fluff, but it's important to investors: It will help GM sell more Terrains at higher prices, boosting margins.
The 2018 GMC Terrain Denali is likely to account for a high percentage of overall Terrain sales. Image source: GeneralMotors.
Speaking of Denali trim, GMC brand chief Duncan Aldred has recently put more emphasis on GMC's upscale (and highly profitable) sub-brand. While presenting the new Terrain in Detroit on Sunday, Aldred pointed out -- as he has on other recent occasions -- that Denali-trim models now account for 25% of GMC's sales.
GMC's Denali push is arguably an under-appreciated component of GM CEO Mary Barra's effort to significantly boost GM's overall margin over the next few years. For years, GMC was thought of by investors (if at all) as just a niche brand offering deluxe versions of Chevy's trucks. But GMC's niche has been white-hot for a few years now, and these are hugely profitable products.
With the overhauled Terrain and its larger Acadia sibling (all-new for 2017), Aldred and his team appear to have the GMC brand well-positioned for even more growth over the next few years.
10 stocks we like better than General Motors When investing geniuses David and Tom Gardner have a stock tip, it can pay to listen. After all, the newsletter they have run for over a decade, Motley Fool Stock Advisor, has tripled the market.*
David and Tom just revealed what they believe are the 10 best stocks for investors to buy right now... and General Motors wasn't one of them! That's right -- they think these 10 stocks are even better buys.
Click here to learn about these picks!
*Stock Advisor returns as of January 4, 2017
John Rosevear owns shares of General Motors. The Motley Fool recommends General Motors. The Motley Fool has a disclosure policy.