Why Tesla Motors' Move to Acquire Solar City Might Make Sense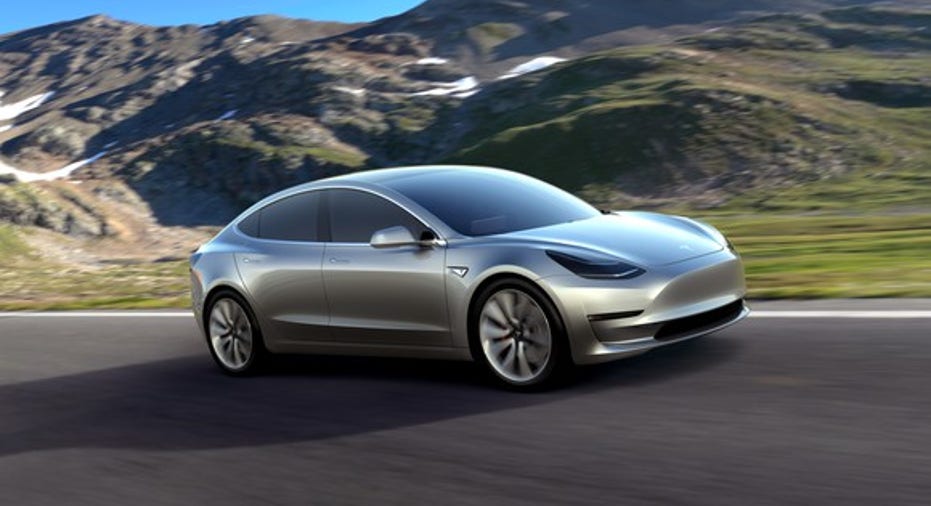 Some analysts are worried the Solar City acquisition might distract Tesla from its most important task: Getting the compact Model 3 sedan into production. Image source: Tesla Motors.
Tuesday's news that Tesla Motors has offered to buy Solar City , a solar-panel company run by Elon Musk's cousins, hasn't exactly been well-received by Wall Street.
As of 11 a.m. on Wednesday morning, Tesla's shares were down about 7%, with some analysts saying the deal could face fierce opposition from Tesla shareholders.
Oppenheimer analyst Colin Rusch pulled no punches in his Wednesday morning note:
Rusch went on to say that Oppenheimer had removed its $385 price target on Tesla shares on concerns that the uncertainty around the acquisition will hurt the stock price.
Rusch was far from the only Wall Street veteran expressing skepticism about the proposed purchase. It's clear what beaten-up shareholders of cash-torching Solar City will get out of this deal: A lifeline. And of course, Musk owns more shares of Solar City than anyone else.
But does it make any sense for Tesla shareholders not named Musk?
Elon Musk thinks this deal is a "no-brainer"
Here's the gist of Musk's argument for the purchase, as he expressed it on Wednesday morning:
The tide of history is moving toward a post-fossil-fuel future in which solar power and electric cars feature heavily.
A fully integrated solar-panel offering would be a natural complement to Tesla Energy's Powerwall and Powerpack products and (together with Tesla's cars) would allow the company to offer its customers a complete, attractive, well-integrated clean-energy solution.
It has been hard for Tesla Energy to create such an integrated offering with Solar City because of the need to hold Solar City at arm's length (because of Musk's ownership stake in both companies).
The 400,000-plus reservations for Tesla's upcoming Model 3 sedan will turn into a lot of traffic in Tesla's stores once the Model 3 is ready for market.
Model 3 buyers are a natural audience for an integrated clean-energy solution.
Selling Solar City's systems through Tesla's existing distribution network will lower Solar City's customer-acquisition costs, making its overall costs more competitive with inexpensive solar panels imported from China (and allowing Tesla to price its integrated offering attractively).
Acquiring Solar City now will allow Tesla to have that integrated solution ready by the time the Model 3 is ready to ship.
There's one other consideration in Musk's case for the deal: He thinks it won't cost Tesla much cash, now or later on.
First of all, Tesla won't have to put up any cash to buy Solar City: It'll simply swap Solar City shares for newly issued Tesla shares. Given the way Tesla's stock rebounded after its recent secondary offering, the dilution doesn't seem likely to hurt Tesla's stock price all that much (and hopefully, Musk isn't too concerned about near-term stock moves anyway.)
Second, Musk said on Wednesday that Solar City should be cash-flow-positive by the end of the year, and that he does not expect the acquisition to have a material impact on Tesla's future cash needs.
But are there reasons to be concerned?
My Foolish colleague Travis Hoium has argued that it's unlikely Tesla will make much money on energy-storage or solar offerings in the near term. If it turns out to be a money-losing proposition, it could squeeze Tesla at a moment when the company needs all the cash it has (and maybe more) to get the Model 3 into production.
I think that's a valid concern. Tesla absolutely needs the Model 3 to be a success in order to acquire the scale it needs to be a viable long-term proposition (and of course, in order to have any hope of delivering on the expectations baked into its lofty stock price.) Timing is of the essence, because the giant global automakers are no longer far behind. Once they can roughly match Tesla's offerings (and that day is coming), the Silicon Valley upstart's sales and profit margins stand a good chance of getting squeezed.
Tesla needs the Model 3 to become well-established in the market before that happens. Simply put, anything that puts the Model 3 program at risk puts the company's entire future at risk -- period.
Musk, of course, is thinking longer term. His vision is that eventually, Tesla will be a clean-energy giant, leading a global transformation. To him, a solar offering is the missing piece that will allow Tesla to drive that transformation, and it's one that can be sold to Tesla's affluent auto customers as a natural add-on to a car sale. In the short term, he doesn't think integrating Solar City into Tesla will be a big (or expensive) hassle that puts the timing or execution of the Model 3 at risk.
If he's right, the deal is a win.
The article Why Tesla Motors' Move to Acquire Solar City Might Make Sense originally appeared on Fool.com.
John Rosevear has no position in any stocks mentioned. The Motley Fool owns shares of and recommends SolarCity and Tesla Motors. Try any of our Foolish newsletter services free for 30 days. We Fools may not all hold the same opinions, but we all believe that considering a diverse range of insights makes us better investors. The Motley Fool has a disclosure policy.
Copyright 1995 - 2016 The Motley Fool, LLC. All rights reserved. The Motley Fool has a disclosure policy.