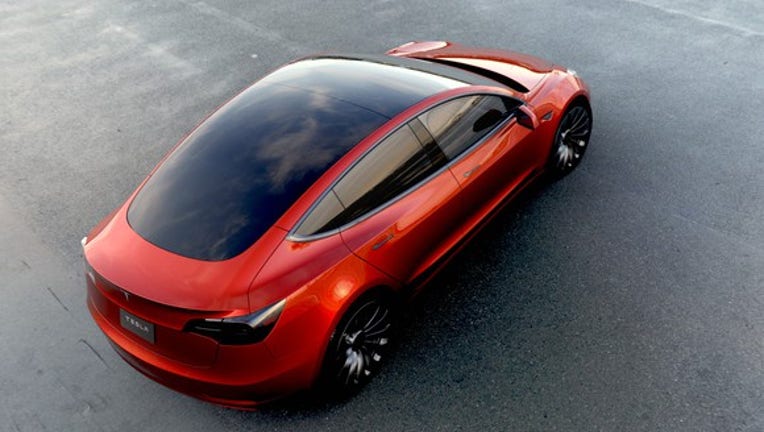 It's kind of endearing, but it's not sexy: GM's electric Chevrolet Bolt EV will have 238 miles of range when it goes on sale later this year. Image source: General Motors.
General Motors' (NYSE: GM) Tuesday announcement that its upcoming Chevrolet Bolt EV will have 238 miles of range seemed like a gauntlet thrown at Tesla Motors (NASDAQ: TSLA). Tesla has said that its similarly priced upcoming Model 3 will have a range of 215 miles.
Advantage, General Motors? Tesla fans say no: The Model 3 is sexy and exciting, while the Bolt...isn't. But it'snot that simple. Read on.
The Tesla is a sexy sports sedan, and the Bolt is homely!
I've heard plenty of Teslainvestors and fans argue that GM missed the mark with the Bolt's styling. The Model 3 is a sleek and covetable sports sedan, while the Bolt is an upright, homely runabout.
That's certainly true. But that argument misses what the Bolt is really about.
The Bolt isn't trying to be a sports sedan. It looks like an urban runabout because that's what it is -- and it's loaded with design features that make it work better for ride-hailing and ride-sharing services.
The Bolt's styling can't compete with that of the sleek Tesla Model 3. But it's a mistake to think that GM can't. Image source: Tesla Motors.
Yes, the Bolt is short and stubby. That makes it maneuverable and easy to park in city environments. It has a high, boxy roofline. That gives it plenty of headroom in its surprisingly spacious and comfortable back seat. Those big rear doors that open wide make it very easy for backseat passengers to get in and out.
The Bolt has a slew of built-in technology that's less obvious, but it's also all about making it a better taxicab or shared vehicle, because that's part of its mission -- to be a the car of choice for ride-hailing and car-sharing services.
So, GM isn't even trying to compete with Tesla?
Not really. The Bolt will probably steal some sales from the Model 3. While the Bolt's styling isn't compelling like the Tesla's, many of the features that make it great for ride-hailing also make it a very practical commuter or small family car. And the Bolt willhave optional DC Fast charging, which will allow it to take advantage of therapidly growing network of public fast-recharging stations. That will make itpractical for road trips, too.But GM didn't design the Bolt to compete directly with Tesla, and it's a safe bet it won't match the baby Tesla's retail sales -- at least at first.
Still, there are Tesla fans (and Tesla investors) who seem to think the Bolt shows that GM doesn't know how to design a car that can compete directly with the Model 3, or other Teslas.
Those people could consider three points very carefully:
The Bolt's range and price show that GM has developed electric-vehicle technology that does compete head-on with Tesla's.
GM's 20-year experience with OnStar has given it deep expertise invehicle connectivity.
GM has a long, long history of creating compelling, even iconic, high-performance and luxury cars. If you have any doubt that today's GM knows how to create a very competitive high-performance luxury vehicle, drop by a Cadillac dealer and check out a CTS-V or ATS-V.
The takeaway: GM didn't design the Bolt as a Tesla rival. But if GM decides there's a good business case for a Tesla rival, it is absolutely capable of creating a very, very serious Tesla rival.
The only thing in doubt before today was whether GM's battery-management technology could come close to Tesla's, and the range the Bolt will get from its 60 kilowatt-hour battery pack erases that doubt.
The Bolt is not the end point of GM's electric-car push
GM put a tremendous amount of money and effort into the initiative that created the Bolt. It had to develop new supplier relationships, significantly raise its level of software and battery expertise, and create an entirely new vehicle architecture.
It didn't do all of that in order to build just one humble runabout for Lyft and Maven.
I will not be the least bit surprised if GM reveals another electric car (or two, or three) during this winter's auto-show season. I will not be the least bit surprised if the next GM battery-electric vehicle is aimed more directly at Tesla's premium offerings -- and I also won't be surprised if GM says it'll be in productionsoonerthan you'd expect.
Investors in GM and Tesla shouldn't be surprised, either.
A secret billion-dollar stock opportunity The world's biggest tech company forgot to show you something, but a few Wall Street analysts and the Fool didn't miss a beat: There's a small company that's powering their brand-new gadgets and the coming revolution in technology. And we think its stock price has nearly unlimited room to run for early, in-the-know investors! To be one of them, just click here.
John Rosevear owns shares of General Motors. The Motley Fool owns shares of and recommends Tesla Motors. The Motley Fool recommends General Motors. Try any of our Foolish newsletter services free for 30 days. We Fools may not all hold the same opinions, but we all believe that considering a diverse range of insights makes us better investors. The Motley Fool has a disclosure policy.