Why Tesla Motors, Inc. Stock Soared in December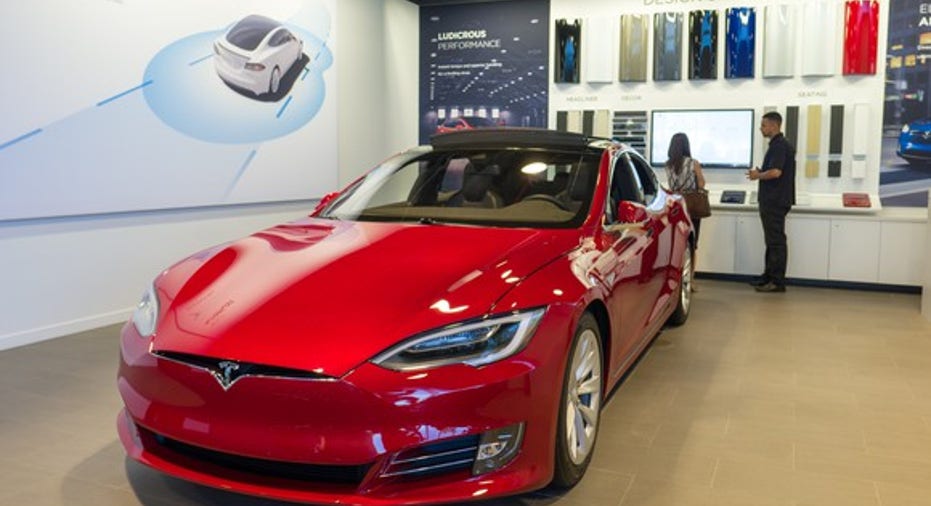 What happened
Shares of electric-car maker Tesla Motors (NASDAQ: TSLA) soared 17.5% in December, according to data provided by S&P Global Market Intelligence. The stock's rise helped it recover some of its pullback earlier in the year.
The Tesla Model S. Image source: The Motley Fool.
So what
There's no surefire reason for Tesla's 17.5% gain during the month, but one did stand out as the most likely catalyst for at least a portion of the gain.
Tesla stock had pulled back in the weeks following the U.S. presidential election, perhaps because investors were concerned about how Tesla could be impacted during Trump's time as president. Trump has expressed disbelief about global warming and outlined actions for eliminating some government spending related to climate change. But sentiment about how Tesla might fare with Trump as president turned rosier when the president-elect started cozying up to Elon Musk. Trump invited the Tesla CEO to his tech summit meeting in New York City, and even appointed him to his Strategic and Policy Forum.
So, Tesla stock may have simply rebounded in December from a sell-off spurred by an overreaction to Trump's election. Of course, there were probably other factors driving the rebound, such as the S&P 500's overall 2% gain during this period, but Trump's warming up to Musk was likely one of the main catalysts for Tesla stock during the month.
Now what
Investors shouldn't read too much into month-to-month moves like this, but it is notable to see Trump keeping Musk close to his side. Still, investors may want to keep an eye on any political action during Trump's presidency that could impact Tesla.
10 stocks we like better than Tesla Motors When investing geniuses David and Tom Gardner have a stock tip, it can pay to listen. After all, the newsletter they have run for over a decade, Motley Fool Stock Advisor, has tripled the market.*
David and Tom just revealed what they believe are the 10 best stocks for investors to buy right now... and Tesla Motors wasn't one of them! That's right -- they think these 10 stocks are even better buys.
Click here to learn about these picks!
*Stock Advisor returns as of January 4, 2017
Daniel Sparks owns shares of Tesla Motors. The Motley Fool owns shares of and recommends Tesla Motors. The Motley Fool has a disclosure policy.