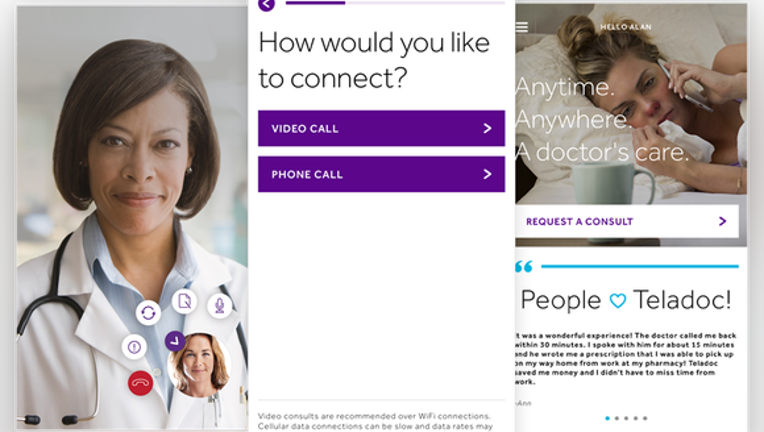 What happened
Telehealth platform Teladoc (NYSE: TDOC), which delivers on-demand healthcare via mobile devices, the internet, video, and phone, saw its stock skyrocket as much as 25.2% on Tuesday following the company's first-quarter earnings release on Monday afternoon. Shares remain this high at the time of this writing.
So what
Teladoc's first quarter consisted of rapid revenue growth and better-than-expected financial results. The company reported first-quarter revenue of $42.9 million, up 60% year over year. On average, analysts anticipated revenue of $42.2 million. Net loss per share was $0.30, an improvement compared to its loss per share of $0.40 in the year-ago quarter. On average, analysts were forecasting a net loss per share of $0.34.
Image source: Teladoc.
In addition, Teladoc said it onboarded more than 2.6 million new customers into the platform and increased overall utilization. Total membership was 20.1 million, up 34% year over year. Total visits were about 385,000, up 60% year over year.
"We continue to benefit from strong demand for both our core and new clinical offerings,resulting in our deeper integration into the virtual healthcare continuum and an enhanced value proposition to our partners," explained Teladoc CEO Jason Gorevic.
Now what
With Gorevic remaining "very confident" in the company's market leadership and its progress toward its financial and strategic targets for the year, Teladoc guided for second-quarter revenue between $44 million and $45 million, above a consensus analyst estimate for second-quarter revenue of $43 million.
10 stocks we like better than TeladocWhen investing geniuses David and Tom Gardner have a stock tip, it can pay to listen. After all, the newsletter they have run for over a decade, Motley Fool Stock Advisor, has tripled the market.*
David and Tom just revealed what they believe are the 10 best stocks for investors to buy right now... and Teladoc wasn't one of them! That's right -- they think these 10 stocks are even better buys.
Click here to learn about these picks!
*Stock Advisor returns as of May 1, 2017
Daniel Sparks has no position in any stocks mentioned. The Motley Fool has no position in any of the stocks mentioned. The Motley Fool has a disclosure policy.