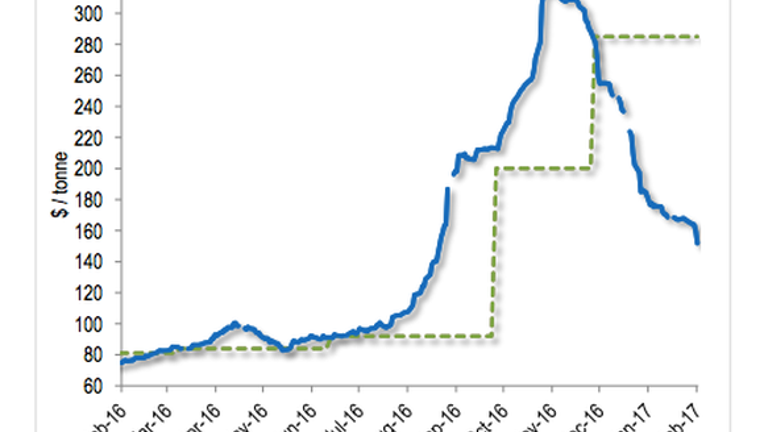 What happened
In February, shares of Teck Resources Limited (NYSE: TECK) fell a dramatic 18.5%. It was up 20% in January and over 400% in 2016, so this is something of a sea change for this Canadian miner of metallurgical coal, copper, and zinc.
So what
The big news was really about met coal, which is used to make steel, but it shouldn't come as a surprise to Teck investors. In fact, way back in October of last year, when Teck reported its third-quarter earnings, it noted that, "We are encouraged by the improved commodity price environment, but remain cautious about how long the supply/demand imbalance will last." The company was specifically talking about the met coal market.
Image source: Teck Resources Limited.
Teck reported fourth-quarter earnings in mid-February and it's now evident that the company's "cautious" statements were well-founded. In fact, met coal prices have basically been dropping since December, and Teck is now saying that "it is unclear how long the price correction will last."
One of the key drivers on both the upside and downside here was policy shifts by China. A move to restrict coal production in the country helped raise prices, and a recent shift to loosen production constraints led to falling prices. Although Teck's first-quarter contracted coal prices are largely locked in above current spot prices, when contracts reset for the second quarter, they look like they will be materially lower at this point. Since Wall Street is forward-looking, investors are selling now.
Teck Resources' coal prices are locked in at a high level, but look like they're going to go much lower soon. Image source: Teck Resources Limited.
Now what
The massive run-up in Teck's shares last year was driven by more than just coal prices. The company has made a great deal of progress on its balance sheet and continues to move closer to the opening of its first Canadian oil sands investment. So there are underlying positives taking shape at Teck. That said, expect continued volatility in the near term as met coal prices grab the headlines.
10 stocks we like better than Teck ResourcesWhen investing geniuses David and Tom Gardner have a stock tip, it can pay to listen. After all, the newsletter they have run for over a decade, Motley Fool Stock Advisor, has tripled the market.*
David and Tom just revealed what they believe are the 10 best stocks for investors to buy right now... and Teck Resources wasn't one of them! That's right -- they think these 10 stocks are even better buys.
Click here to learn about these picks!
*Stock Advisor returns as of February 6, 2017
Reuben Brewer has no position in any stocks mentioned. The Motley Fool has no position in any of the stocks mentioned. The Motley Fool has a disclosure policy.