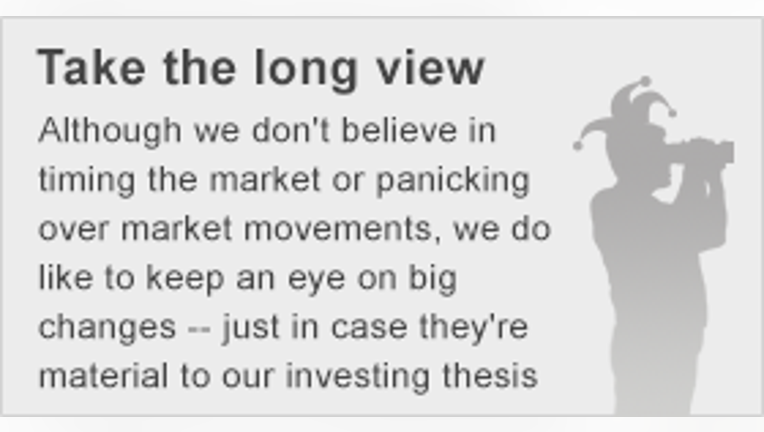 Image source: Pictures of Money Flickr Creative Commons3.
What: Shares ofTeamHealth Holdings , a company that provides staffing and administrative services to hospitals and other healthcare providers, jumped more than 17% as of 3:45 p.m. ET after news broke that an activist investment firm has taken a position in the company.
So what:JANA Partners disclosed in a filing with the Securities and Exchange Commission that it has taken an 8% position in TeamHealth. The investment firm released a note stating that it felt that TeamHealth has made "missteps in critical areas including capital allocation, strategy and governance."
JANA Partners has made a motion to add two new members to the company's board of directors and it has submitted three candidates for selection.
In response to the notice, TeamHealth's management issued a statement saying it welcomes communications with shareholders and will be reviewing JANA's board nominations to see if adding them would be "in the best interest of all TeamHealth shareholders."
Now what: TeamHealth stock has been infree fall ever since itrejected a merger offer from AmSurg back in October. At the time, AmSurg had proposed that the two companies join together and AmSurg offered to pay more than $71 per share to make the deal happen.
However, TeamHealth announced that it wasn't interested in merging, and it outright rejected AmSurg's offer. Shares have waned ever since, as even after accounting for today's pop, they are down more than 28% since TeamHealth said no.
It's possible that investors are bidding up shares today on the hope that JANA Partners could convince AmSurg or someone else to make another bid for the company, but that remains complete speculation at this point.
It's unknown at this point whether JANA Partners will be successful in getting its nominees on the board or be able to advocate for other changes that would benefit shareholders. If you were a TeamHealth shareholder before this news broke, then it's probably best to sit tight and watch this story play out.
The article Why TeamHealth Holdings Inc. Is Soaring Today originally appeared on Fool.com.
Brian Feroldi has no position in any stocks mentioned. The Motley Fool has no position in any of the stocks mentioned. Try any of our Foolish newsletter services free for 30 days. We Fools may not all hold the same opinions, but we all believe that considering a diverse range of insights makes us better investors. The Motley Fool has a disclosure policy.
Copyright 1995 - 2016 The Motley Fool, LLC. All rights reserved. The Motley Fool has a disclosure policy.