Why TASER International Inc. Shareholders Have Nothing to Worry About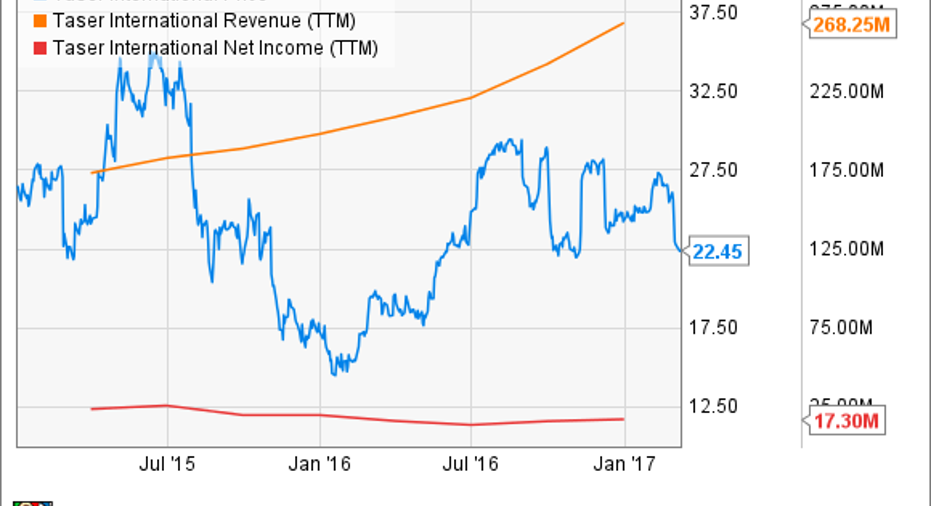 Shares of TASER International (NASDAQ: TASR) have struggled to gain any traction on the market despite the company's rapid growth in both Tasers and body cameras. The smallest bit of news can scare off investors, particularly when a contract is lost to a competitor.
But amid the struggling stock price and concerns that TASER International has more competition than hoped, the company has been performing extremely well. Recently reported fourth-quarter results were outstanding, and momentum is strong for Axon body cameras, with more great products on the way. Here's why I don't think there's anything for investors to be worried about.
Image source: TASER International.
Why the market gets worked up
If you look at the past couple of years, most of the big moves in TASER International's stock have been due to short-term concerns in the market. When the company lost a New York City contract,the stock dropped; more recently, when Houston delayed its body-camera launch, there were jitters in the market about whether body-camera adoption would continue to grow.
While the market gets worked up about a contract here or there, TASER International has been growing right under our noses, including 46% revenue growth in the fourth quarter.
This doesn't include $350.8 million in contracted revenue, primarily consisting of the high-margin Evidence.com data-backup plans law enforcement agencies buy along with their body cameras. Fundamentals are improving and the bottom line should start growing rapidly in the near future.
Profits are coming
TASER International's management has spent most of the last three years building out the Axon line of body cameras and the Evidence.com cloud storage system. On top of that, it's spending millions on sales staff to sell Tasers and body cameras around the world. The theory is that taking a short-term hit to the bottom line for long-term profitability will pay off.
The strategy should begin paying off in 2017. In 2016, the number of Axon body cameras sent into the field was 66,154, and many of those purchases came with Evidence.com subscriptions, whose gross margin has been over 80% in the past. As the steady stream of high-margin contracted revenue starts coming in, it will boost the bottom line.
We're also likely to see new products introduced in 2017, which could add value. There's a partnership with Cradlepointto develop wireless solutions, and two recent acquisitions to form the Axon AI group. Together, these ventures could create more connected body-camera solutions with smarter capabilities for customers.
Don't sweat the small stuff
It's easy to read too much into the loss of a contract or a new product released by a competitor, but it shouldn't be lost on investors that TASER International is the dominant player in Tasers and body cameras, and has shown tremendous growth in both categories in the last few years. And as products improve and service contracts begin to pay off, the company's top and bottom lines will grow. That prospect puts the company, and its investors, in a great position early in 2017.
10 stocks we like better than Taser InternationalWhen investing geniuses David and Tom Gardner have a stock tip, it can pay to listen. After all, the newsletter they have run for over a decade, Motley Fool Stock Advisor, has tripled the market.*
David and Tom just revealed what they believe are the 10 best stocks for investors to buy right now... and Taser International wasn't one of them! That's right -- they think these 10 stocks are even better buys.
Click here to learn about these picks!
*Stock Advisor returns as of February 6, 2017
Travis Hoium owns shares of Taser International. The Motley Fool recommends Taser International. The Motley Fool has a disclosure policy.