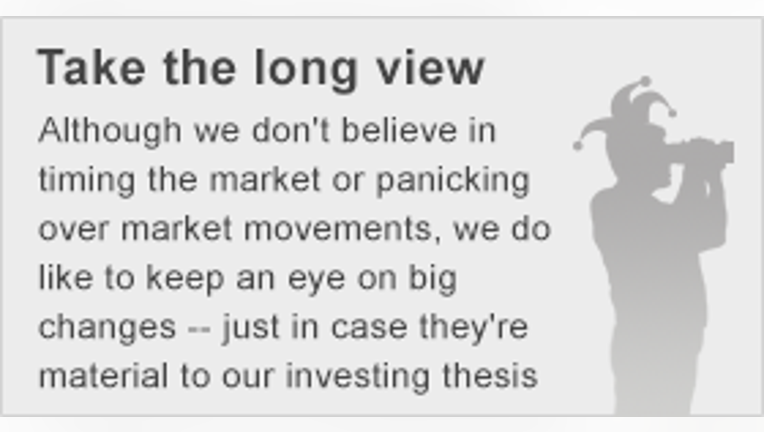 Image source: TASER International.
What: Shares of Taser and body camera company TASER International jumped as much as 18% in morning trading Monday after the company reported earnings. By midday, shares had settled to about a 12% gain.
So what: Fourth-quarter revenue at TASER rose 19.7% to $56.0 million and net income was flat at $5.1, or $0.09 per share. Analysts were only expecting $50.5 million in revenue and $0.04 per share in earnings.
Strong results were driven by the adoption of the Axon 2 body camera and Evidence.com subscriptions. Axon segment revenue jumped 47% from a year ago to $9.4 million, and there is now $159.0 million in future contracted revenue in the segment as well.
Now what: Adoption of body cameras and cloud-based evidence backup is taking hold, but it's not going to become standard overnight. We're just starting to see some of the country's largest law enforcement groups adopt these platforms, and there's still a lot of growth potential for TASER International ahead. Recently, the company has invested heavily in new product offerings and a sales teams to match.
Given the recent traction and the improving line of products, I think this company has a bright future ahead as a law enforcement supplier.
The article Why TASER International, Inc.'s Shares Popped 18% Today originally appeared on Fool.com.
Travis Hoium owns shares of Taser International. The Motley Fool recommends Taser International. Try any of our Foolish newsletter services free for 30 days. We Fools may not all hold the same opinions, but we all believe that considering a diverse range of insights makes us better investors. The Motley Fool has a disclosure policy.
Copyright 1995 - 2016 The Motley Fool, LLC. All rights reserved. The Motley Fool has a disclosure policy.