Why Tableau Software Inc. Stock Popped Today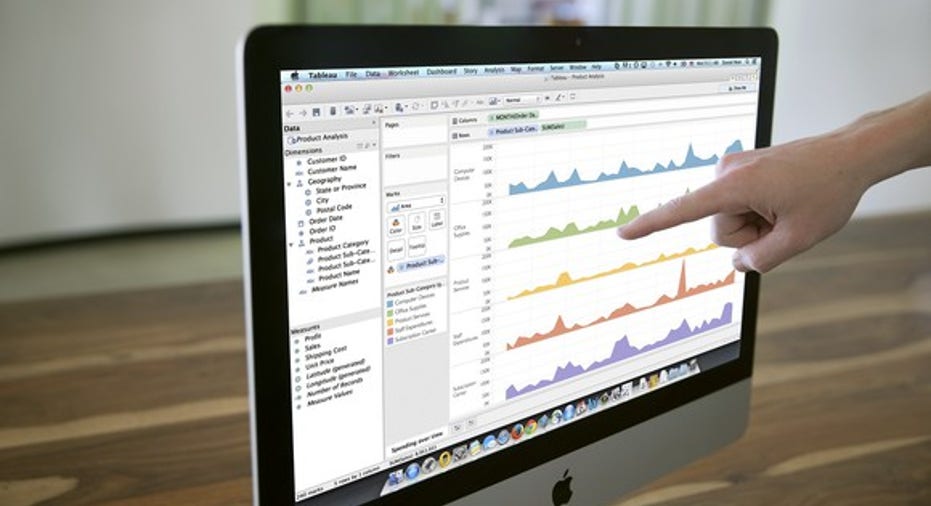 IMAGE SOURCE: Tableau Software, Inc.
What happened
Shares of Tableau Software (NYSE: DATA) were up 17.3% as of 12:45 p.m. EST Friday after the data-visualization software specialist announced strong fourth-quarter 2016 results.
So what
Quarterly revenue grew 24% year over year, to $250.7 million, including a 14% increase in license revenue, to $152.2 million, and 41% growth in maintenance and services revenue, to $98.4 million. Tableau also added over 4,000 new customer accounts during the quarter, and closed 589 transactions greater than $100,000 (up 42% year over year). On the bottom line, that translated to adjusted net income of $20.7 million, or $0.26 per share, compared to adjusted net income of $26 million, or $0.33 per share in the same year-ago period.
Analysts, on average, were only expecting Tableau to achieve adjusted earnings of $0.13 per share on revenue of $229 million.
"We are seeing strong demand from enterprises that want to deploy Tableau more broadly across their organization, from thousands to tens of thousands of users," added Tableau CEO Adam Selipsky. "Our enterprise customers are making Tableau a mission-critical platform as data becomes more and more essential to their success."
Now what
For the current fiscal first quarter of 2017, Tableau expects revenue between $195 million and $205 million, the midpoint of which represents 16% year-over-year growth, which should result in an adjusted loss per diluted share between $0.08 and $0.15. By comparison, consensus estimates predicted a narrower adjusted net loss of $0.04 per share on lower revenue of $191.7 million.
Finally, for the full year 2017, Tableau anticipates revenue between $850 million and $890 million, or year-over-year growth of 5% at the midpoint, which should translate to roughly breakeven earnings per share on an adjusted basis. Wall Street was looking for 2017 revenue of $865 million, below the midpoint of Tableau's expected range.
To be fair, that full-year guidance isn't dropping any jaws, assuming Tableau isn't under-promising with the intention of over-delivering. But given its relative outperformance in the fourth quarter on both the top and bottom lines, nobody would be surprised if that happens. It's equally unsurprising to see Tableau Software stock rallying today.
10 stocks we like better than Tableau Software When investing geniuses David and Tom Gardner have a stock tip, it can pay to listen. After all, the newsletter they have run for over a decade, Motley Fool Stock Advisor, has tripled the market.*
David and Tom just revealed what they believe are the 10 best stocks for investors to buy right now... and Tableau Software wasn't one of them! That's right -- they think these 10 stocks are even better buys.
Click here to learn about these picks!
*Stock Advisor returns as of January 4, 2017
Steve Symington has no position in any stocks mentioned. The Motley Fool has no position in any of the stocks mentioned. The Motley Fool has a disclosure policy.