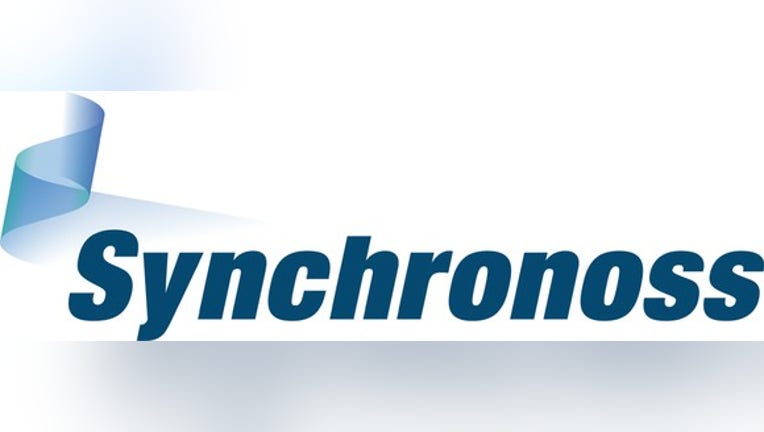 Image source: Synchronoss Technologies Inc.
What happened
Shares of Synchronoss Technologies Inc. (NASDAQ: SNCR) were up 13.7% as of 12:00 p.m. EST Tuesday after the mobile cloud solutions specialist released stronger-than-expected third-quarter 2016 results.
So what
Adjusted quarterly revenue climbed 19.6% year over year, to $181 million, including cloud solution revenue of $106.4 million, which was above the high end of Synchronoss' guidance for cloud revenue between $102 million to $105 million. On the bottom line, that translated to 19.9% growth in adjusted net income, to $32.5 million, while adjusted net income per share rose 17.2% year over year, to $0.68.
By comparison, analysts' consensus estimates predicted lower adjusted revenue of $177.8 million and lower adjusted earnings of $0.67 per share.
Syncrhonoss CFO Karen Rosenberger added, "We are pleased with our ability to deliver strong top-line growth with a growing cloud and enterprise pipeline.We believe our ability to drive software growth, while investing in our enterprise and international initiatives, positionsSynchronosswell heading into the fourth quarter and beyond."
Now what
For the current quarter, Synchronoss expects adjusted revenue of $194 million to $201 million, the midpoint of which represents 25% year-over-year growth, including cloud solution revenue of $122 million to $125 million. That should translate to adjusted earnings of $0.80 to $0.85. Here again, both ranges were well above Wall Street's expectations, which called for adjusted fourth-quarter revenue of $194.5 million and adjusted earnings of $0.78 per share.
In the end, this is a fairly straightforward beat relative to the expectations of both Synchronoss and Wall Street, followed by encouraging guidance to close the year. With that in mind, it's no surprise to see Synchronoss Technologies' stock trading significantly higher today.
10 stocks we like better than Synchronoss Technologies When investing geniuses David and Tom Gardner have a stock tip, it can pay to listen. After all, the newsletter they have run for over a decade, Motley Fool Stock Advisor, has tripled the market.*
David and Tom just revealed what they believe are the ten best stocks for investors to buy right now and Synchronoss Technologies wasn't one of them! That's right -- they think these 10 stocks are even better buys.
Click here to learn about these picks!
*Stock Advisor returns as of November 7, 2016
Steve Symington has no position in any stocks mentioned. The Motley Fool owns shares of and recommends Synchronoss Technologies. Try any of our Foolish newsletter services free for 30 days. We Fools may not all hold the same opinions, but we all believe that considering a diverse range of insights makes us better investors. The Motley Fool has a disclosure policy.