Why Suncor Energy Inc. Shareholders Have Something to Worry About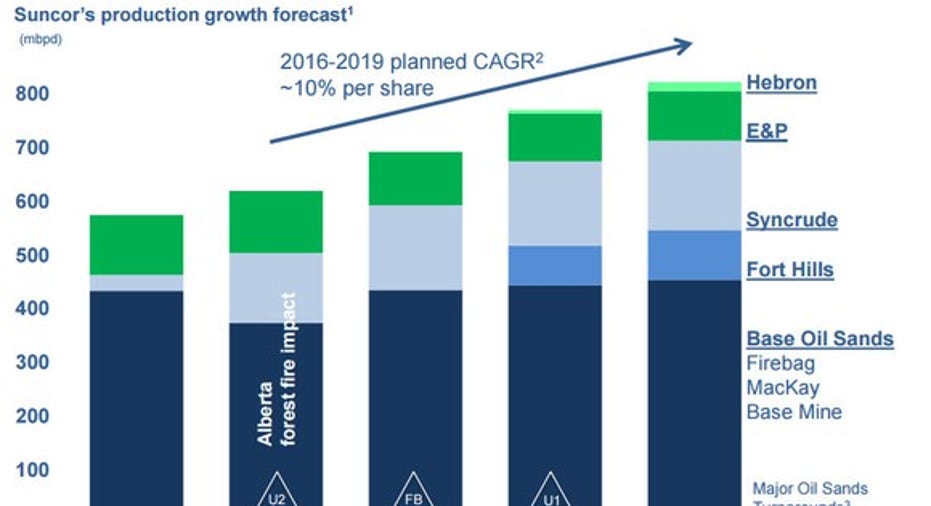 On the surface, it would appear that investors don't have much reason to worry about Canadian oil giant Suncor Energy (NYSE: SU). It continues to generate robust cash flow even at lower oil prices, it has a strong balance sheet, and it has clearly visible near-term growth. Yet the company isn't an entirely worry-free investment. Here are two things that would worry me if I were a long-term investor in Suncor's stock.
Concentrating a bit too much
Suncor Energy aggressively took advantage of the oil market downturn to expand its asset base in the oil-sands region, where it's already a leader. It started that spending spree in late 2015, paying $310 million Canadian to acquire an additional 10% stake in its Fort Hills oil sands mine from Total (NYSE: TOT), which boosted its interest in the project to 50.8%. The company followed that up with two more deals last year, spending CA$6.6 billion to acquire Canadian Oil Sands for its 36.74% stake in the Syncrude facility and $937 million to buy another 5% stake in Syncrude from Murphy Oil (NYSE: MUR).
Image source: Suncor Energy.
While these deals significantly increased Suncor Energy's near-term production and will provide incremental growth once Fort Hills comes online later this year, it also further concentrated the company's asset base to the oil-sands region. In fact, roughly 90% of the company's production will come from that area in the future.
That concentration poses a significant risk because of the impact of wildfires. As the following slide shows, last year's devastating wildfires in the region resulted in a noticeable production drop from Suncor's base oil-sands operations after it shut in several facilities:
Source: Suncor Energy investor presentation.
What would worry me is that future wildfires could prove to be even more devastating to the company, with the potential for one or more of its assets to suffer a direct hit. Such an event could cause a lasting long-term impact to its oil production.
Where does it grow from here?
Another worry is that Suncor Energy doesn't have any major growth projects under development after it completes Fort Hills and Hebron later this year. While those two project will help fuel double-digit production growth through 2019 as they ramp up, the company has yet to approve new projects to drive growth in future years.
One reason the company doesn't have any other projects in the works is that it deferred two expansion projects in 2015 as a result of the oil market downturn. At that time, the company cut CA$1 billion of growth spending, including funding for the MacKay River 2 oil sands expansion, which would have started producing this year, and the White Rose expansion off Canada's east coast that would have delivered first oil next year. So far, the company hasn't given either project the green light, though its partner on White Rose, Husky Energy (TSX: HSE), recently said it might sanction the project this year.
Other than that, most of Suncor Energy's other expansion possibilities are much further away. For example, last year it paid $50 million for a stake in Chevron's (NYSE: CVX) Rosebank project in the U.K. North Sea. However, that project remains several years away, because Chevron recently canceled a $2 billion order for a floating production, storage, and offloading (FPSO) vessel to support the project. While the U.S. oil giant recently launched a new FPSO bidding process in hopes of shaving $100 million to $150 million from the price, it probably won't award that contract until next year. That probably means it will be several more years until Rosebank starts producing, which isn't a surprise given that Chevron has been working on developing this project for more than a decade. Beyond that, Suncor has several other future opportunities, including its Lewis and Meadow Creek oil sands leases, and exploration leases offshore Norway and Eastern Canada.
These projects represent potential expansion opportunities and not growth that investors can clearly see over the horizon. That worries me, because it suggests that Suncor Energy's growth engine might slow down during the early part of next decade unless it quickly restarts its stalled development projects or makes an acquisition to fill in the gap.
Investor takeaway
Every investment involves some risk that worries investors. In Suncor Energy's case, the risks that would worry me are its overly concentrated position in the oil sands and the lack of clearly visible growth projects once it finishes its current expansions. Still, the company could quickly put both concerns on the back burner if it made the right acquisition to either increase its exposure to the North Sea or the Canadian Atlantic, because it could simultaneously reduce its oil-sands exposure and fill a gap in its medium-term growth pipeline.
10 stocks we like better than Suncor EnergyWhen investing geniuses David and Tom Gardner have a stock tip, it can pay to listen. After all, the newsletter they have run for over a decade, Motley Fool Stock Advisor, has tripled the market.*
David and Tom just revealed what they believe are the 10 best stocks for investors to buy right now... and Suncor Energy wasn't one of them! That's right -- they think these 10 stocks are even better buys.
Click here to learn about these picks!
*Stock Advisor returns as of February 6, 2017
Matt DiLallo has no position in any stocks mentioned. The Motley Fool recommends Chevron and Total. The Motley Fool has a disclosure policy.