Why Sturm Ruger, Nautilus, and First Solar Jumped Today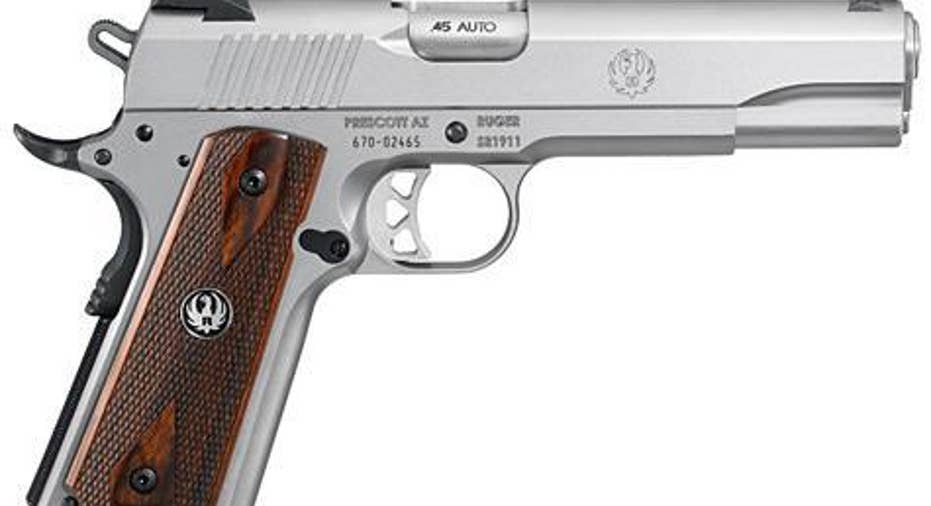 Image: Sturm Ruger.
Tuesday brought investors a slightly better performance from the stock market than the first trading day of the year, as major market benchmarks generally eased higher after Monday's rout. Solid signs of fundamental strength in the U.S. economy came from the auto industry's latest sales numbers, but the extent to which economic optimism translated into share-price gains varied from sector to sector. For Sturm Ruger , Nautilus , and First Solar , good news lifted their stock prices to considerably better levels by the end of the trading session Tuesday.
Sturm Ruger climbed 7%, and hit a new all-time record high as the entire gun industry once again reacted favorably to calls from the Obama administration to tighten gun-control laws. The President issued executive orders that will expand the ways in which prospective gun owners are screened through background checks, with one goal being to ensure that more of those who sell guns on a somewhat less-frequent basis will be nevertheless subject to the same regulatory framework that more-established gun dealers have to face.
Guidance from Sturm Ruger's chief rival that it expects better sales and earnings than it originally anticipated also helped send shares higher throughout the industry. The surge comes as investors expect any gun-control efforts to spur purchases of guns from those looking to get in under the wire of whatever future legislation or regulation ends up making it more difficult to obtain firearms.
Nautilus jumped 10%, adding further to gains on Monday following the fitness company's announcement that it will acquire elliptical exercise-machine manufacturer Octane Fitness for $115 million. Nautilus CEO Bruce Cazenave said that the purchase "will meaningfully accelerate our strategic growth initiatives, including extending into higher price point products, penetrating new channels of distribution, and expanding access in international markets."
With 2016 having just started, seasonal factors supporting the fitness industry are in full gear, and Nautilus believes that the acquisition will add to earnings by the current quarter. Consolidation in the exercise-equipment industry should further cement Nautilus' leadership position and reputation for products that are appropriate both for personal use, and in professional exercise facilities.
Finally, First Solar gained 8%. The solar giant got an upgrade from Goldman Sachs, with the Wall Street analyst giant citing First Solar's extensive cash balance and low outstanding debt as setting it apart from many of its competitors in the solar space. For years, lax monetary policy has made it easier for debt-ridden companies to buy into the solar industry. As financial conditions become somewhat more restrictive from a borrower's perspective, however, First Solar will have more of an advantage against peers that rely more on constant access to credit markets for working capital.
To the extent that the solar industry keeps growing, First Solar will be in an ideal position to consider major strategic moves to take full advantage of whatever opportunities arise.
The article Why Sturm Ruger, Nautilus, and First Solar Jumped Today originally appeared on Fool.com.
Dan Caplinger has no position in any stocks mentioned. The Motley Fool has no position in any of the stocks mentioned. Try any of our Foolish newsletter services free for 30 days. We Fools may not all hold the same opinions, but we all believe that considering a diverse range of insights makes us better investors. The Motley Fool has a disclosure policy.
Copyright 1995 - 2016 The Motley Fool, LLC. All rights reserved. The Motley Fool has a disclosure policy.