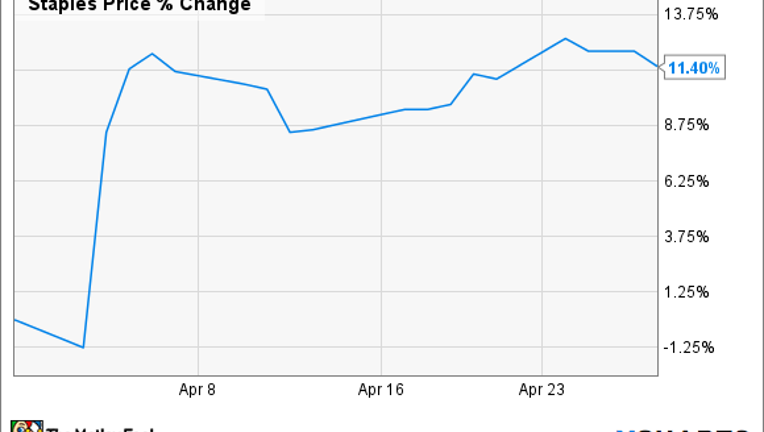 What happened
Shares ofStaples, Inc.(NASDAQ: SPLS) popped last month after the office-supply retailer said it was exploring a sale after regulators rejected its proposed merger withOffice Depot. According to data from S&P Global Market Intelligence,the stock finished up 11.4%.
Image source: Staples.
As the chart below shows, the gains came almost entirely in the days following news of a potential sale.
So what
According to The Wall Street Journal, the leading office retailer has entered into talks with a number of private-equity firms, who could see opportunity in Staples as the company is still profitable, despite sliding sales, and trades with a single-digit P/E ratio.
The retailer has seen comparable sales decline for several years in a row as offices have advanced into the digital age, turning away from the traditional products that drove Staples' sales like printers and paper. While its retail division has suffered, its business delivery service has remained strong, and the company is one of the biggest online retailers in the U.S.
Now what
There's been no further news in the almost month that has passed since news broke about a potential sale, but rumors have spread recently that PE firms could be targeting other retailers likeParty CityandWhole Foods Market. With Staples' retail business in secular decline, a sale seems like the best exit for the company and its shareholders. If management moves closer to a deal, that stock should pop once again.
10 stocks we like better than StaplesWhen investing geniuses David and Tom Gardner have a stock tip, it can pay to listen. After all, the newsletter they have run for over a decade, Motley Fool Stock Advisor, has tripled the market.*
David and Tom just revealed what they believe are the 10 best stocks for investors to buy right now... and Staples wasn't one of them! That's right -- they think these 10 stocks are even better buys.
Click here to learn about these picks!
*Stock Advisor returns as of May 1, 2017
Jeremy Bowman has no position in any stocks mentioned. The Motley Fool has no position in any of the stocks mentioned. The Motley Fool has a disclosure policy.