Why Square Inc's Shares Have Plunged 29% in 2016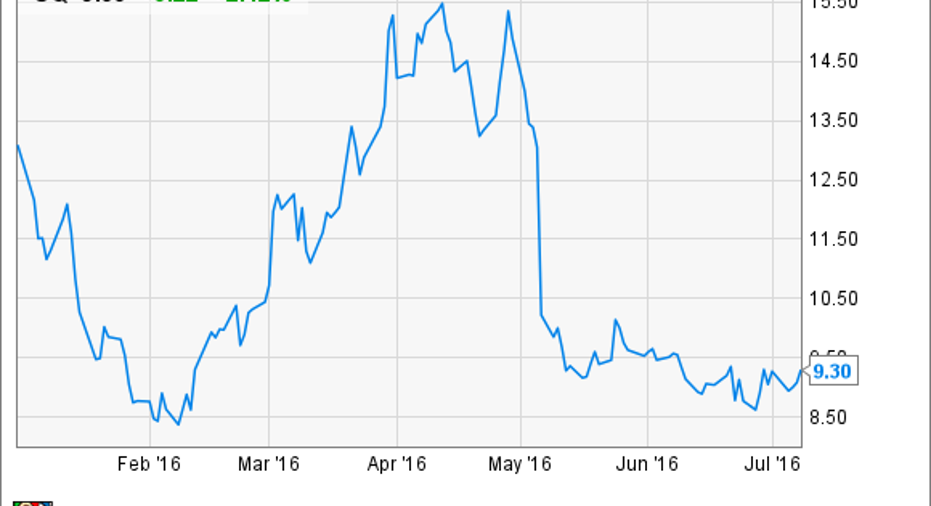 Image source: Square.
What: Shares of payment processing company Square Inc have plunged 29% so far in 2016, according to data provided by S&P Global Market Intelligence, as results haven't lived up to the market's expectations. Along the way, investors have had quite a wild ride.
So what: The spike in shares you see above was driven in large part by Visa disclosing its 9.99% stake in Square. Since Visa is such a big player in the credit card business, it was a big vote of confidence for the company. But then reality hit.
As much as Visa can change the sentiment about Square shares, earnings are really what's going to drive the stock long-term. And first quarter results showed only slight revenue growth sequentially to $379.3 million and an increased loss from $80.5 million in the fourth quarter 2015 to $96.8 million in Q1 2016. If revenue isn't growing significantly and losses are growing, Square could really be in trouble long-term.
Now what: While one or two quarters won't determine Square's future, the losses do highlight the company's problems. It's spending hundreds of millions per year developing and selling new products and hoping that traction on the top line will eventually create leverage on the bottom line. That's been easier said than done.
I'm still bullish on the long-term future of Square, but if the company can't prove it's making progress on improving the bottom line soon, any faith in the company's future could evaporate.
The article Why Square Inc's Shares Have Plunged 29% in 2016 originally appeared on Fool.com.
Travis Hoium owns shares of Visa. The Motley Fool owns shares of and recommends Visa. Try any of our Foolish newsletter services free for 30 days. We Fools may not all hold the same opinions, but we all believe that considering a diverse range of insights makes us better investors. The Motley Fool has a disclosure policy.
Copyright 1995 - 2016 The Motley Fool, LLC. All rights reserved. The Motley Fool has a disclosure policy.