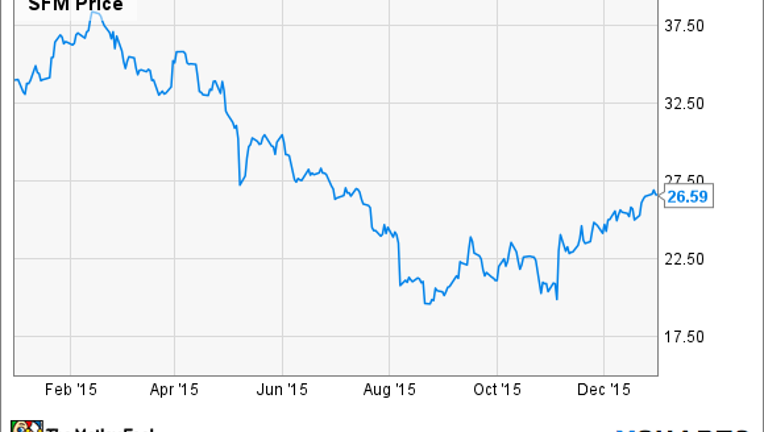 What:Shares ofSprouts Farmers Market were looking wilted last year, falling 22%, according to S&P Capital IQ. As mainstream grocers jumped into the organic foods market, Sprouts' prospects fell. But the company bounced back toward the end of the year as the chart below shows.
So what:Like its peers,Whole FoodsMarketandThe Fresh Market, Sprouts faced a tough 2015. As more Americans turn to organic and natural foods, mainstream companies likeKrogerandCostcohave focused on the category, while smaller independent brands like Trader Joe's proliferate.
The first warning sign seemed to come after Sprouts beat expectations on the top and bottom lines in its fourth-quarter earnings report, yet the stock declined. The market move seemed to be evidence that investors believed the stock was overvalued -- it had a P/E over 50 at the time, especially high considering that competition in the sector was intensifying.A weak full-year outlook also reflected this sentiment.
By the time its first-quarter report came out in May, the stock had already slid another 10%, and it fell another 10% in one day after missing expectations on both sides. Comparable sales slowed to 4.8%, short of estimates. The report seemed to confirm investor worries, prompting a sell-off -- high-priced stocks often take steep hits when growth slows.
The poor performance from Whole Foods and other sector stocks continued to weight on Sprouts in the subsequent months, and the stock fell again after its Q2 earnings report, dropping 12%. The company scaled back its 2015 guidance, sending investors fleeing.
Investors were redeemed by the final report of the year when shares jumped 15% as the company beat estimates and delivered improving comparable sales. It also bumped up its full-year EPS forecast modestly to $0.83-$0.84.
Now what:Going into 2016, the organic sector should remain cutthroat. Major players are adding new stores, and price competition will likely only get more intense. At a more modest P/E of 33, Sprouts doesn't seem like it's in danger of another collapse. However, the company will have to deliver strong growth if shareholders are going to be rewarded.
The article Why Sprouts Farmers Market, Inc. Shares Dropped 22% in 2015 originally appeared on Fool.com.
John Mackey, co-CEO of Whole Foods Market, is a member of The Motley Fool's board of directors. Jeremy Bowman has no position in any stocks mentioned. The Motley Fool owns shares of and recommends Costco Wholesale and Whole Foods Market. Try any of our Foolish newsletter services free for 30 days. We Fools may not all hold the same opinions, but we all believe that considering a diverse range of insights makes us better investors. The Motley Fool has a disclosure policy.
Copyright 1995 - 2016 The Motley Fool, LLC. All rights reserved. The Motley Fool has a disclosure policy.