Why Sportsman's Warehouse, U.S. Concrete, and Klondex Mines Slumped Today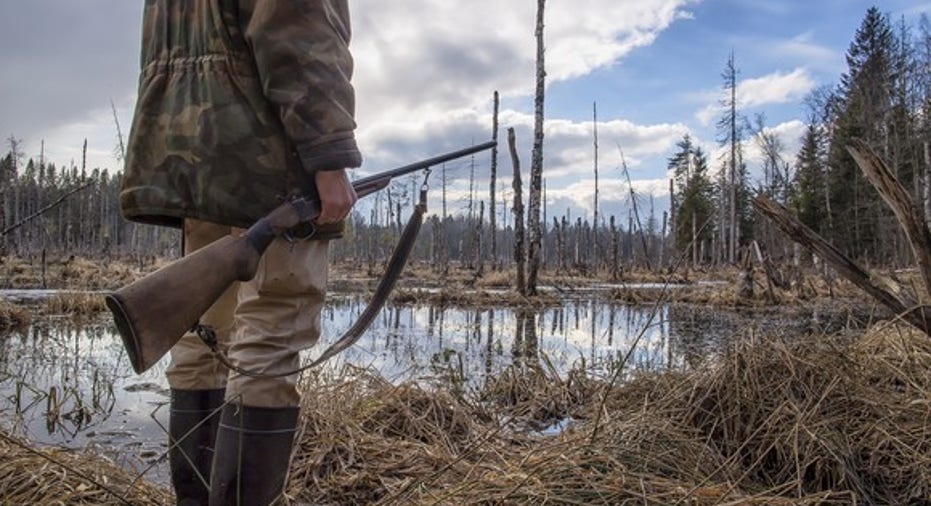 After starting the day comfortably in positive territory, the stock market drifted lower throughout the afternoon as Republicans pulled their new healthcare bill after it became clear it would not be able to garner enough support to pass a key House vote. When all was said and done, theDow Jones Industrial Averagedeclined 60 points, or roughly 0.3%, and the S&P 500 declined a more modest 0.1%. Meanwhile, the Nasdaq managed to climb 11 points, or 0.2%, as the market came to a close.
But investors sent several individual stocks reeling today, including Sportsman's Warehouse (NASDAQ: SPWH), U.S. Concrete (NASDAQ: USCR), and Klondex Mines (NYSEMKT: KLDX). Read on to see what drove these unusual downward moves.
Image source: Getty Images.
Sportsman's Warehouse falls short
Shares of Sportsman's Warehouse fell nearly 8% today after the sporting goods retailer announced disappointing results for its fiscal fourth quarter ended Jan. 28, 2017. Quarterly revenue climbed 6.2% year over year, to $221.4 million, as contributions from new stores more than offset a same-store sales decline of 5.2%. On the bottom line, net income declined 7.9%, to $10.5 million, or $0.25 per diluted share. By comparison, analysts' consensus estimates predicted higher earnings of $0.26 per share on revenue of $227.4 million.
According to Sportsman's Warehouse CEO John Schaefer, the chain's relative underperformance was due to a combination of today's challenging retail environment and lapping the San Bernardino tragedy last year, which created a difficult comparison given strong sales in the same year-ago period for the company's hunting and shooting category.
"Despite thechoppy environment that we are navigating," Shaefer added, "we believe there is significant market share opportunity in the outdoor goods space, and our differentiated concept that is resonating with our customers will provide us with key competitive advantages that will allow us to further strengthen our market position and deliver profitable growth."
U.S. Concrete CFO steps down
U.S. Concrete stock declined 8.9% after the Texas-based ready-mixed concrete and aggregates specialist replaced its primary accounting firm and announced its CFO will step down.U.S. Concrete insists that CFO Joseph Tusa is resigning for "personal reasons" effective as of July 1, 2017, noting, "Mr. Tusa's anticipated departure is not as a result of any disagreement with the company." U.S. Concrete also appointed Kevin Kohutek as its principal accounting officer, effective April 1, 2017.
At first glance, it doesn't look good that the company simultaneously replaced its auditor, dismissing Grant Thornton LLP and appointing Ernst & Young LLP as its new independent public accounting firm, effective March 22, 2017.To be fair, however, according to a subsequentreport from The Fly, SunTrust analyst Rohit Seth stepped in to defend the company, noting he confirmed with U.S. Concrete that the auditor change and Tusa's resignation are unrelated. As such, Seth reiterated his buy rating and $90-per-share price target on U.S. Concrete.
Klondex Mines' record quarter isn't enough
Finally, shares of narrow vein undergound mining specialist Klondex Mines fell 7.5% today after the company announced weaker-than-expected fourth-quarter 2016 results. Quarterly revenue was $56.1 million, which translated to net income of $0.02 per share -- below analysts' consensus estimates for quarterly net income of $0.05 per share. Meanwhile, that brought full-year revenue to $198.2 million -- above the $195 million investors were expecting -- which translated to a net loss of $0.01 per share for 2016.
Klondex Mines CEO Paul Huet noted the company met its production and cost guidance for the year, however, further stating that Klondex Mines achieved record production in both the fourth quarter and full year of 2016.
"Looking ahead, our near term strategy is focused on organic growth," Huet added. "We expect to produce between 210,000 and 225,000 gold equivalent ounces in 2017, an increase of approximately 36% from the prior year."
Record or not, however, it's clear that Klondex's results didn't quite live up to the lofty expectations of the market. And with shares still up nearly 56% over the past year as of this writing, it's hard to blame investors for taking some of their profits off the table.
Offer from The Motley Fool: The 10 best stocks to buy nowMotley Fool co-founders Tom and David Gardner have spent more than a decade beating the market. In fact, the newsletter they run, Motley Fool Stock Advisor, has tripled the S&P 500!*
Tom and David just revealed their ten top stock picks for investors to buy right now.
Click here to get access to the full list!
*Stock Advisor returns as of 3/24/2017.
Steve Symington has no position in any stocks mentioned. The Motley Fool has no position in any of the stocks mentioned. The Motley Fool has a disclosure policy.