Why Splunk, Inc. Stock Dropped 11.3% in 2016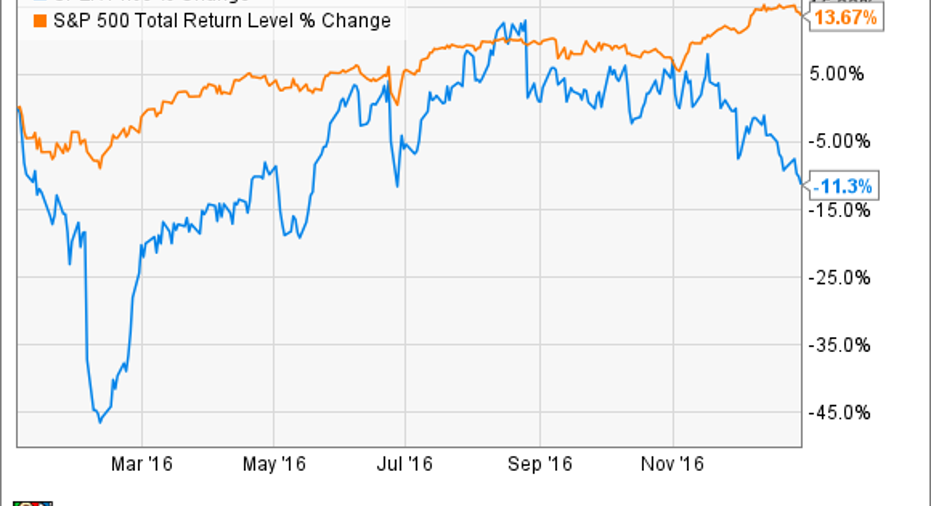 IMAGE SOURCE: Splunk Inc.
What happened
Shares ofSplunk Inc.(NASDAQ: SPLK)fell 11.3% in 2016,according to data from S&P Global Market Intelligence, despite several strong quarterly reports from the operational intelligence platform specialist.
So what
Don't be fooled by Splunk's decline during the calendar year, as its performance was much stronger than the share price indicates. In fact, even after early in the year, when the market dragged down many high-flying, richly valued tech stocks like Splunk -- a company that purposefully forsakes GAAP profitability in these early stages in favor of investing for top-line growth and taking market share -- Splunk's stock had promptly rebounded by March, after its fiscal fourth-quarter 2016 report absolutely crushed expectations. And shares were still trading higher year to date as late as mid-November.
Shares most recently plunged, however, when Splunk released its fiscal third-quarter 2017 report on Nov. 30. Buteven then, that report represented Splunk's eighth consecutive quarterly beat. Revenue rose 40.4% year over year, to $244.8 million, as Splunk added nearly 500 new enterprise customers during the quarter, while adjusted (non-GAAP) operating margin was 6.8%. Both figures were well above Splunk's guidance provided in the prior quarter, which called for revenue of $228 million to $230 million and adjusted operating margin between 5% and 6%.
Splunk also raised its full-year guidance, calling for fiscal 2017 revenue to be between $930 million and $932 million, up from the prior range of $910 million to $914 million, with adjusted operating margin between 5% and 6%, up from 5% before.
Now what
If this all sounds impressive, that's because it really is. So apart from the possibility the market had grown accustomed to Splunk's consistent habit of underpromising and overdelivering, Splunk stock's decline at the end of year honestly made little sense to me. That's also why, in December, I singled it out as a promising mid-cap stock investors should consider buying.
For what it's worth, Splunk stock has already climbed nearly 10% in 2017 as of this writing, so perhaps the market has started to realize its error. But in the end, I think investors would be wise not toread too much into these kinds of short-term swings, especially when considering yet-to-be-profitable, high-growth businesses like Splunk. Rather, if you focus on Splunk's actual business -- which appears to be gaining momentum today -- you can take solace in knowing the stock price will eventually follow suit.
10 stocks we like better than Splunk When investing geniuses David and Tom Gardner have a stock tip, it can pay to listen. After all, the newsletter they have run for over a decade, Motley Fool Stock Advisor, has tripled the market.*
David and Tom just revealed what they believe are the 10 best stocks for investors to buy right now... and Splunk wasn't one of them! That's right -- they think these 10 stocks are even better buys.
Click here to learn about these picks!
*Stock Advisor returns as of January 4, 2017
Steve Symington has no position in any stocks mentioned. The Motley Fool owns shares of and recommends Splunk. The Motley Fool has a disclosure policy.