Why Sonic Corporation Stock Is Getting a Lift Today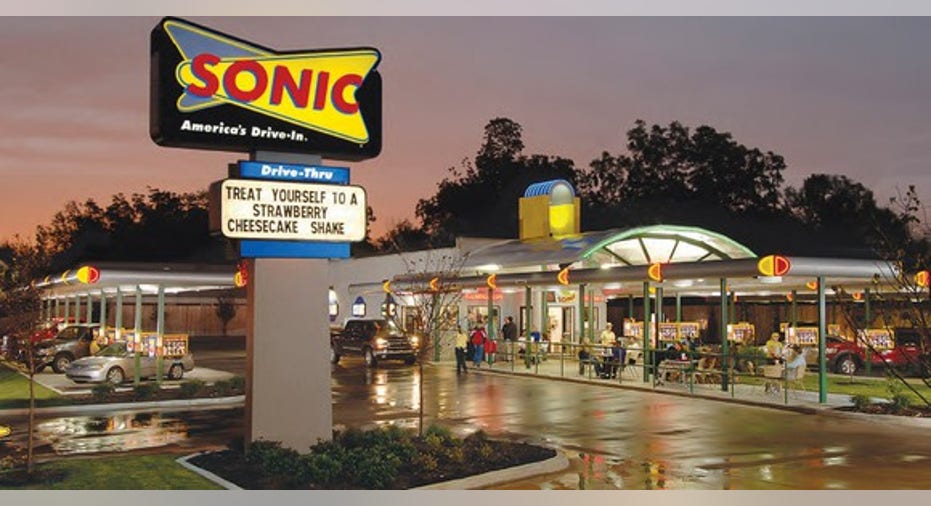 What happened
Shares of Sonic Corporation (NASDAQ: SONC), the quick serve restaurant that still employs roller-skating wait staff,got a lift Wednesday after the company released its fiscal second-quarter earnings for the period endedFeb. 28that were better than expected. Thestock was up nearly 12% in early trading Wednesday, though gave up much of those gains by mid-day.
So what
For the quarter, the fast food chain reported revenue of just over $100 million, which seems to be just below most analysts expectations. Additionally, same store sales looked weak, declining more than 7% year over year. However, Sonic reported net income of $11 million, or $0.25 per share, which is up 14% compared with the same period a year ago. Sonic management expects comps to be flat or down 2% for the full fiscal year, which would at least be a major improvement over the current decreases.
Image source: Sonic Corporation.
Now what
Sonic's earnings results and comparable store forecast are welcome changes to what otherwise has felt like a tough year so far -- as the stock is down nearly 30% over the last year. Sonic stock has still been an outperformer in recent years, rising 240% over the last five years. Compare that with McDonald's (NYSE: MCD), which is up about 30% over the last five years. That has been viewed largely as a turnaround success for the company, which has grown through implementing all-day breakfast and narrowing down on its best performing menu items.
Sonic certainly still has a sizable presence in the U.S., with over 3,500 locations and a presence in nearly every state. Sonic's franchise model -- it only owns about 10% of those locations -- seems to be profitable for the company, and focusing on moving an even higher percentage of locations to franchisees could drive profitability higher. During the quarter, Sonic opened 10new drive-ins, but refranchised54 locations.
10 stocks we like better than SonicWhen investing geniuses David and Tom Gardner have a stock tip, it can pay to listen. After all, the newsletter they have run for over a decade, Motley Fool Stock Advisor, has tripled the market.*
David and Tom just revealed what they believe are the 10 best stocks for investors to buy right now... and Sonic wasn't one of them! That's right -- they think these 10 stocks are even better buys.
Click here to learn about these picks!
*Stock Advisor returns as of February 6, 2017
Seth McNew has no position in any stocks mentioned. The Motley Fool has no position in any of the stocks mentioned. The Motley Fool has a disclosure policy.