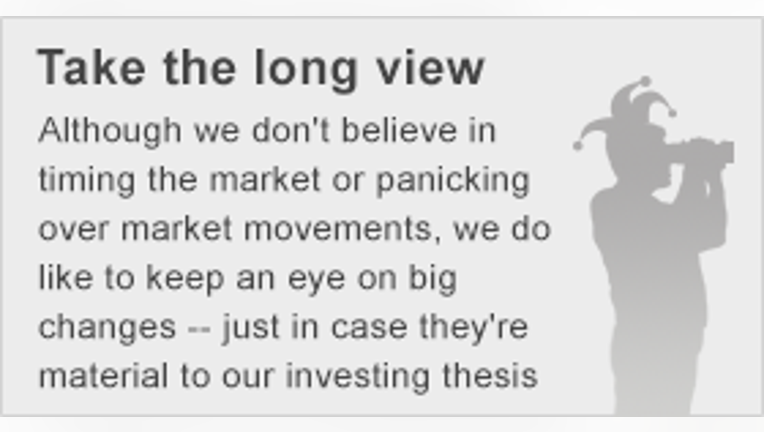 Image source: SolarCity Corp.
What: Shares of SolarCity Corp had a rough February, falling 48% after reporting fourth-quarter earnings.
So what: There weren't really any positives from the earnings report. Installations missed guidance, first-quarter guidance was weak, and management announced a major delay in its solar panel manufacturing plans.
The 18% growth expected in the first quarter of 2016 was probably the biggest number investors latched on to. This is a huge slowdown for a company that, as recently as last year, had nearly doubled installations.
Now what: There are a number of challenges facing SolarCity, and they started to show up in a big way last quarter. Nevada's regulators pulled the rug out from under the company by changing net metering rules, thus building a strategy to undermine its business that utilities across the country will use. That led to some of the installation disappointment and also the weak growth in early 2016.
Long term, investors are debating how much value these residential solar power systems really have. SolarCity has $2.0 billion in net present value (NPV), according to its own projections, and it is still a growing company. So, there should be value that can be realized eventually. I think the days of doubling year after year are over, but if SolarCity focuses more on generating value than it does on generating growth, this could be a stock that recovers rapidly in 2016.
The article Why SolarCity Corp's Shares Plunged 48% Last Month originally appeared on Fool.com.
Travis Hoium has no position in any stocks mentioned. The Motley Fool owns shares of and recommends SolarCity. Try any of our Foolish newsletter services free for 30 days. We Fools may not all hold the same opinions, but we all believe that considering a diverse range of insights makes us better investors. The Motley Fool has a disclosure policy.
Copyright 1995 - 2016 The Motley Fool, LLC. All rights reserved. The Motley Fool has a disclosure policy.