Why SodaStream International Ltd. Surged 19% Today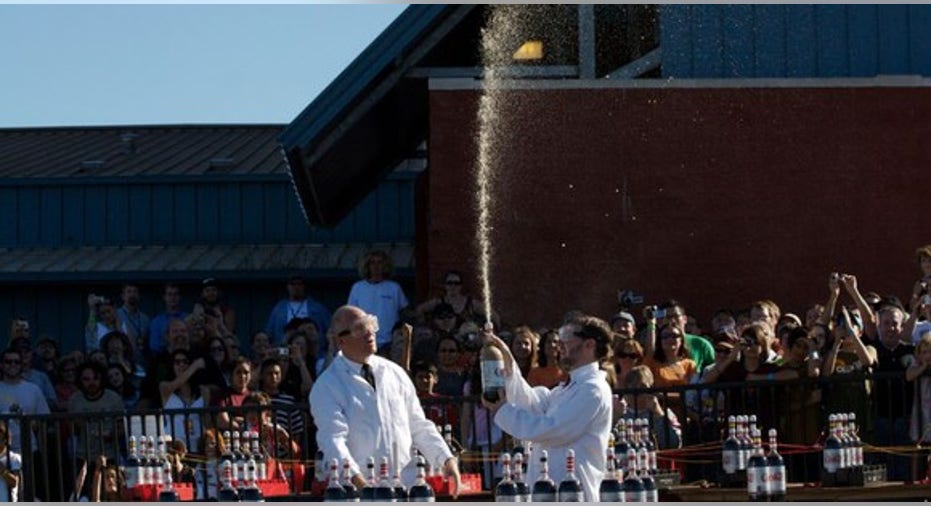 Image adapted from photo by Flickr user Robert House.
What happened
Shares of at-home soda brewing specialist SodaStream International Ltd.(NASDAQ: SODA) surged more than 19% higher in early trading Thursday, before falling back to an 11.8% gain as of noon EST. But why?
So what
If you guessedearnings, then congratulations. You're right! SodaStream reported Q3 earnings this morning, beating Wall Street's estimated $0.24 in earnings on $117.7 million in sales. In fact, SodaStream reported $0.69 per share in diluted earnings, which was more than triple last year's Q3 tally. Revenue grew 12.9% year over year to deliver a $124.2 million surprise to the upside.
Management described the results as "very strong," with CEO Daniel Birnbaum highlighting "a 23% increase in sparkling water maker unit sales to 788,000, our highest quarterly figure in nearly two years."
Now what
That increase in equipment sales -- twice as fast as overall sales growth -- can be read in either of two ways. Referring to the old razor-and-blade business theory, soda-bottle-half-empty investors will point to relatively slower sales of soda-making "consumables" as evidence that SodaStream owners aren't actually using the machines they've bought in years past. They'll say this diminishes the stock's long-term attractiveness. Bottle-half-full folks, on the other hand, will emphasize the faster growth of soda machine "razors" as enabling even greater sales of consumable "blades" in the future.
As for management's view, Birnbaum is pointing to "an all-time quarterly record 7.7 million gas refills" as evidence that the bottle here is actually half full -- and with the stock up considerably more than 10% as of this writing, it looks like most investors agree with him.
10 stocks we like better than SodaStream When investing geniuses David and Tom Gardner have a stock tip, it can pay to listen. After all, the newsletter they have run for over a decade, Motley Fool Stock Advisor, has tripled the market.*
David and Tom just revealed what they believe are the ten best stocks for investors to buy right now and SodaStream wasn't one of them! That's right -- they think these 10 stocks are even better buys.
Click here to learn about these picks!
*Stock Advisor returns as of November 7, 2016
Fool contributorRich Smithdoes not own shares of, nor is he short, any company named above. You can find him onMotley Fool CAPS, publicly pontificating under the handleTMFDitty, where he currently ranks No. 336 out of more than 75,000 rated members.
The Motley Fool owns shares of SodaStream. Try any of our Foolish newsletter services free for 30 days. We Fools may not all hold the same opinions, but we all believe that considering a diverse range of insights makes us better investors. The Motley Fool has a disclosure policy.