Why SodaStream International Ltd. Stock Jumped in February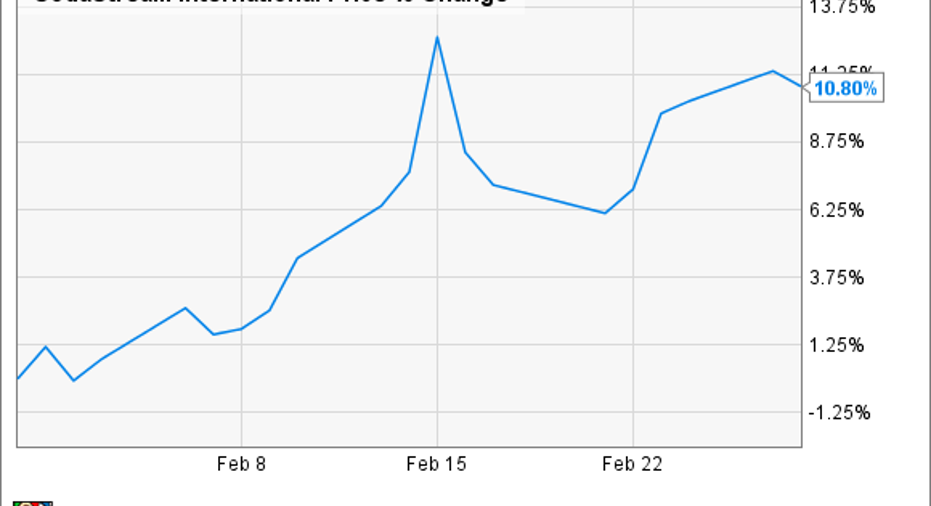 What happened
Shares ofSodaStream International(NASDAQ: SODA) popped last month after the maker of home soda machines delivered another blowout earnings report. The stock finished up 11%, according to data from S&P Global Market Intelligence. As the chart below shows, shares gained gradually through the first half of the month and then spiked when the company's earnings report came out on Feb. 15.
So what
SodaStream was one of the best-performing stocks of 2016 as the countertop sparkling water company bounced back from several quarters of falling profits thanks to a brand revamp and the opening of a new, more efficient manufacturing facility.
Image source: The Motley Fool.
In the fourth quarter, SodaStream again blew past estimates as profits soared. The company posted earnings per share (EPS) of $0.71, up from $0.24 a year ago, and much better than expectations of $0.36. Revenue, meanwhile, increased 16.7% to $131.8 million, also topping the consensus of $125.5 million.
The strong profit growth on more moderate revenue growth shows the power of SodaStream's razor-and-blades business model and its operating leverage, especially after opening its new factory in Israel.
Now what
SodaStream's guidance for the current year was more modest, calling for revenue growth in the high-single digits in constant currency, or mid-single digits when factoring in the effects of the stronger dollar. On the bottom line, the company sees operating income increasing by 30% in constant currency, or in the low teens on a reported basis. That would put the company in line for EPS of $2.30, which would give it a price-to-earnings ratio of about 20 based on this year's earnings. Considering the company's recent pattern of crushing earnings estimates, that could make the stock a steal today if it outperforms its own guidance.
The stock cooled off after the recent report, but there's still reason to believe SodaStream's upward momentum will continue.
10 stocks we like better than SodaStreamWhen investing geniuses David and Tom Gardner have a stock tip, it can pay to listen. After all, the newsletter they have run for over a decade, Motley Fool Stock Advisor, has tripled the market.*
David and Tom just revealed what they believe are the 10 best stocks for investors to buy right now... and SodaStream wasn't one of them! That's right -- they think these 10 stocks are even better buys.
Click here to learn about these picks!
*Stock Advisor returns as of February 6, 2017
Jeremy Bowman owns shares of SodaStream. The Motley Fool owns shares of SodaStream. The Motley Fool has a disclosure policy.