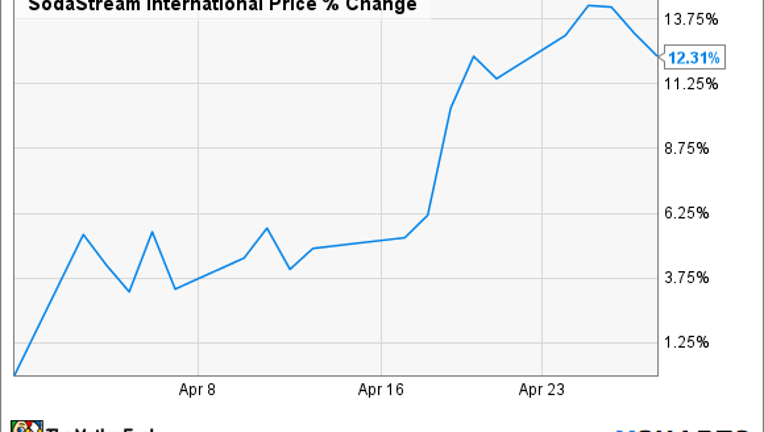 What happened
Shares ofSodaStream International, Ltd.(NASDAQ: SODA) were bubbling higher again last month as the stock rose 12.3% according to data from S&P Global Market Intelligence.
Image source: SodaStream.
Though there was little news about the company, shares continued to move higher mostly on momentum as management took some opportunities to call out the competition.
So what
SodaStream stock had its biggest one-day gain of the month on the first session of April as the stock rallied 5.4%. The DIY soda-maker did an April Fools prank with Paris Hilton over that weekend, though the jump was likely unrelated to that news.
Just a few days later, CEO Daniel Birnbaum attackedPepsiCoafter it released the Kendall Jenner ad that many considered to be offensive, with Birnbaum calling Pepsi "tone deaf." On April 19, the stock popped again, gaining 4%, though there was no apparent news behind the move.
After a blockbuster 2016 in which earnings per share more than tripled and the stock rose 142%, momentum has continued into 2017. The stock is up 40% year-to-date.
Now what
Growth is likely to slow down this year -- the company was coming off of a bottom last year after transitioning to a sparkling water brand and opening a new, more efficient manufacturing facility in Israel. Its first-quarter earnings report on May 10 should help determine its trajectory for the year. Analysts are expecting earnings per share of $0.43, up from $0.29 a year ago, on 9.4% revenue growth.
The company has blown past analyst estimates in each of its last four reports, however. If it can do it again, the stock should soar once more.
10 stocks we like better than SodaStreamWhen investing geniuses David and Tom Gardner have a stock tip, it can pay to listen. After all, the newsletter they have run for over a decade, Motley Fool Stock Advisor, has tripled the market.*
David and Tom just revealed what they believe are the 10 best stocks for investors to buy right now... and SodaStream wasn't one of them! That's right -- they think these 10 stocks are even better buys.
Click here to learn about these picks!
*Stock Advisor returns as of May 1, 2017
Generating a disclosure failed. Please contact CMSHelp@fool.com.