Why Smith & Wesson and Sturm, Ruger Stocks Sank in November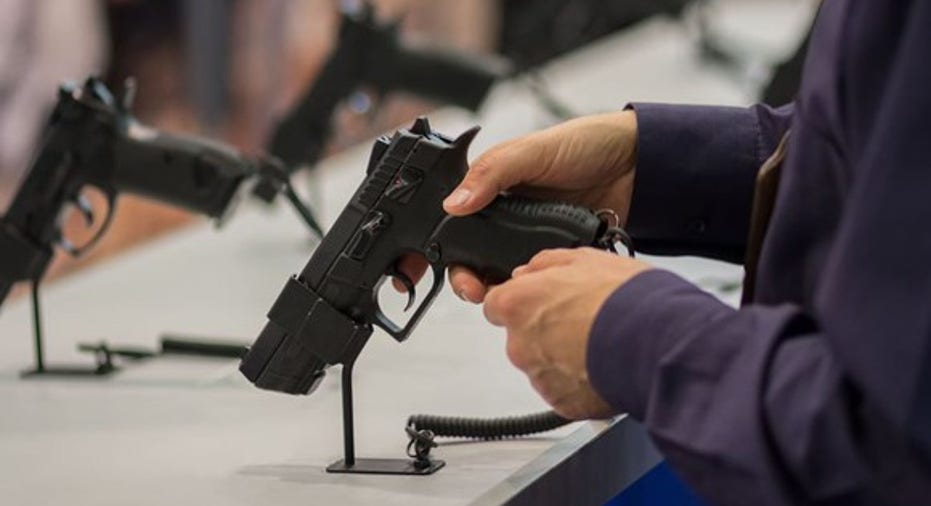 Image source: Getty Images.
What happened
November was a strange month for gun stocks. Over the course of last month, shares of two of the biggest names in guns -- Smith & Wesson (NASDAQ: SWHC) and Sturm, Ruger (NYSE: RGR) -- both declined sharply. According to data from S&P Global Market Intelligence, Smith & Wesson stock dropped 10.5% in November, while Sturm, Ruger stock was down 15.3%.
At the same time, though, shares of ammunition-maker Olin Corporation (NYSE: OLN), maker of Winchester brand ammunition (but not Winchester rifles), shot up 19.5%. What gives?
So what
Earnings may provide part of the answer. Just before the month began, on Oct. 31, Olin Corp reported fiscal Q3 earnings of $0.11 per share, a number that matched analyst estimatesand represented nearly triple the profits that Olin had earned in the previous year's Q3. Sales were up nearly as much, rising 172% year over year. That news was plenty to justify the stock's November surge.
For perspective, Ruger's earnings report showed a less impressive (but still very respectable) 66% jump in profits last month. Smith & Wesson, the third company on our list, didn't report in November. Instead, it reported yesterday. That earnings report featured a 172% jump in quarterly profits, but it came too late to explain why the stock might have slumped in November.
Now what
So what explains the diverging fortunes of the nation's two best-known, publicly traded gunmakers versus one of the biggest suppliers of ammunition to gun owners? Perhaps the different directions their stock prices are taking reflect different expectations for how consumers will react to the election of Donald Trump as President.
Historically, the elections of presidents who are thought to likely support gun control have spawned some counterintuitive movements on the stock market. In theory, you might expect tighter gun regulation to make it harder to purchase guns, hurt gun sales, and hurt gun stocks, as well. In practice, though, gun regulation rarely actually happens in Congress. But the fear that it might happen sends gun buyers flocking to gun stores in droves to buy up weapons before Congress has a chance to ban them.
Had Hillary Clinton been elected President, that's the scenario we'd probably be looking at today -- and gun stocks might be soaring. Instead, the election of Donald Trump is allaying concerns among gun owners, decreasing the likelihood of a "run on guns," and dampening enthusiasm for gun stocks, as a result. At the same time, reduced regulation on guns might make it easier to actually use them at gun ranges and such -- which might explain why investors have such sudden affection for ammunition makers like Olin Corp.
10 stocks we like better than Smith and Wesson Holding When investing geniuses David and Tom Gardner have a stock tip, it can pay to listen. After all, the newsletter they have run for over a decade, Motley Fool Stock Advisor, has tripled the market.*
David and Tom just revealed what they believe are the 10 best stocks for investors to buy right now... and Smith and Wesson Holding wasn't one of them! That's right -- they think these 10 stocks are even better buys.
Click here to learn about these picks!
*Stock Advisor returns as of November 7, 2016
Fool contributorRich Smithdoes not own shares of, nor is he short, any company named above. You can find him onMotley Fool CAPS, publicly pontificating under the handleTMFDitty, where he currently ranks No. 336 out of more than 75,000 rated members.
The Motley Fool has no position in any of the stocks mentioned. Try any of our Foolish newsletter services free for 30 days. We Fools may not all hold the same opinions, but we all believe that considering a diverse range of insights makes us better investors. The Motley Fool has a disclosure policy.