Why Skyworks Solutions Inc. Fell 14.2% in April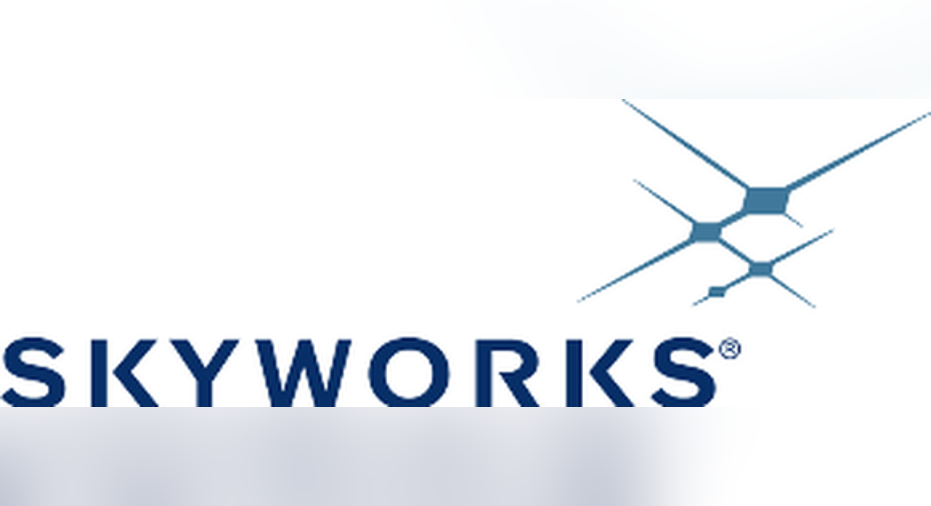 Image source: Skyworks Solutions.
What: Shares of Skyworks Solutions fell 14.2% in April 2016, according to data from S&P Global Market Intelligence. The maker of analog semiconductors started wobbling mid-month on rumors of low production volumes at largest customer Apple , and April's plunge was punctuated by a second-quarter report at the very end.
So what: As it turns out, the Apple rumors appear to be true. iPhone and iPad production is indeed slowing down, as Cupertino's one-trick-pony strategy plays out and investors are left waiting for the next big thing. This isn't great news for Skyworks' long-term revenue growth. But there's enough volume left in Apple's pipelines to keep Skyworks healthy for years, so the iPhone slowdown by itself is not a great reason to write off Skyworks as a long-term investment.
In its own second-quarter report, Skyworks showed sales and earnings just above its own guidance midpoints. But third-quarter revenue is expected to come in below the year-ago quarter's figure, and earnings will also shrink. In both cases, Wall Street was already looking for slowdowns, but nowhere near as large as the ones Skyworks' management outlined.
Now what: The management team is well aware that Skyworks is swimming in rough waters nowadays. Apple's weakness will be mitigated by strong order growth from China and Samsung , as the Korean electronics giant promotes a broader product line than Apple and is less vulnerable to damage from a couple of underperforming devices. But it's still difficult to see your largest client struggling.
"Unlike prior years, units will be down year over year really for the first time, and they are also absorbing some excess inventory, which adds a headwind," said Skyworks CEO Dave Aldrich in the second-quarter earnings call. "We think our revenue will be up over 10% when we exclude [Apple]. We have seen strength at Samsung on [Galaxy] G7, growth in China, our broad markets business will be up 15% to 20% on a year-over-year basis."
Overall, Aldrich admits that his company is exposed to Apple's weakness, but that his wide client base puts Skyworks in a decent position.
"I think we will fare better than most and we'll continue to focus on returns to the business," Aldrich concluded.
Corporate spin or an accurate assessment? You be the judge, but I do agree that Skyworks was smart to seek lots of work outside of Cupertino. It could be worse.
The article Why Skyworks Solutions Inc. Fell 14.2% in April originally appeared on Fool.com.
Anders Bylund has no position in any stocks mentioned. The Motley Fool owns shares of and recommends Apple and Skyworks Solutions. The Motley Fool has the following options: short June 2016 $70 calls on Skyworks Solutions. Try any of our Foolish newsletter services free for 30 days. We Fools may not all hold the same opinions, but we all believe that considering a diverse range of insights makes us better investors. The Motley Fool has a disclosure policy.
Copyright 1995 - 2016 The Motley Fool, LLC. All rights reserved. The Motley Fool has a disclosure policy.