Why SkyWest, Inc. Stock Flew 15% Higher Today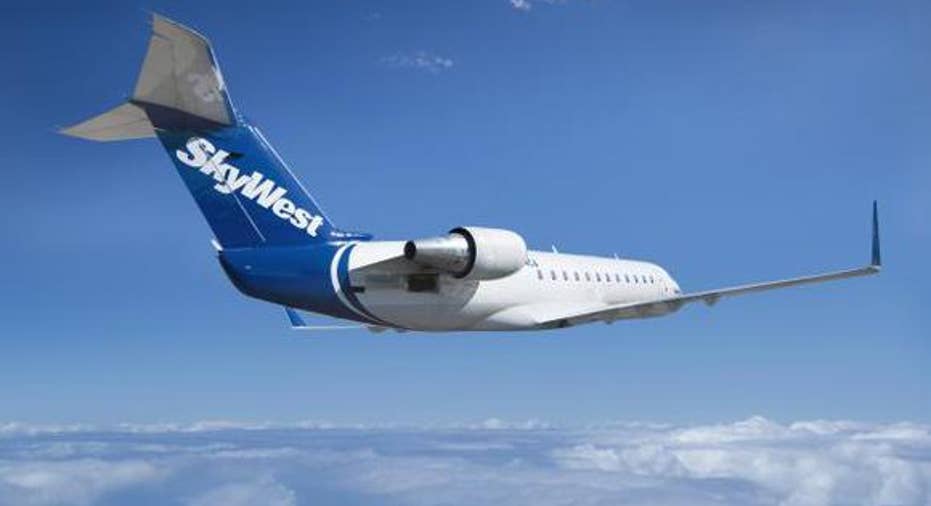 Image source: SkyWest.
What:Shares of SkyWest rose as much as 22.6% early Friday, and it traded up 15.5% as of 12:00 p.m. EDT, after the airline announced stronger-than-expected first-quarter 2016 results.
So what:Quarterly revenue rose slightly year over year, to $762 million, driven by the net impact of 29 aircraft added to profitable flying agreements and the removal 66 aircraft from unprofitable (or less-profitable) flying agreements over the past year. This also reflected rate increases under certain existing flying contracts, new flying under pro-rate arrangements, and higher contract performance incentives. Operating income nearly doubled over the same period, to $62 million, good for 8.1% operating margin. And on the bottom line, that translated to 170% growth in net income, to $27 million, or $0.52 per share.
Analysts, on average, were anticipating net income of just $0.25 per share on revenue of $736.3 million.
SkyWest CEO Chip Childs added, "The quarter's strong results reflect the value SkyWest has been able to generate for our partners through solid, reliable operating performance. The demand for our service and aircraft is strong and we remain focused on continuing to drive incremental improvement in fleet economics to create long-term value for our shareholders."
Now what:SkyWest doesn't typically provide specific financial guidance given its ongoing fleet transition. But during the subsequent conference call, CFO Rob Simmons noted, "[W]e continue to be comfortable expecting low-double-digit growth in profitability over last year's comparable quarter for each of the next three remaining quarters of 2016."
And that's fair enough; for the full year 2016, analysts' consensus estimates currently call for earnings per share to climb roughly 10% year over year, to $2.18. But given SkyWest's relative outperformance this quarter, I won't be the least bit surprised if those estimates inch upward as Wall Street has time to fully digest today's news. With that in mind, I think SkyWest investors have every right to celebrate their company's position today.
The article Why SkyWest, Inc. Stock Flew 15% Higher Today originally appeared on Fool.com.
Steve Symington has no position in any stocks mentioned. The Motley Fool has no position in any of the stocks mentioned. Try any of our Foolish newsletter services free for 30 days. We Fools may not all hold the same opinions, but we all believe that considering a diverse range of insights makes us better investors. The Motley Fool has a disclosure policy.
Copyright 1995 - 2016 The Motley Fool, LLC. All rights reserved. The Motley Fool has a disclosure policy.