Why Silver Standard Resources Inc. Catapulted Up by 18% in January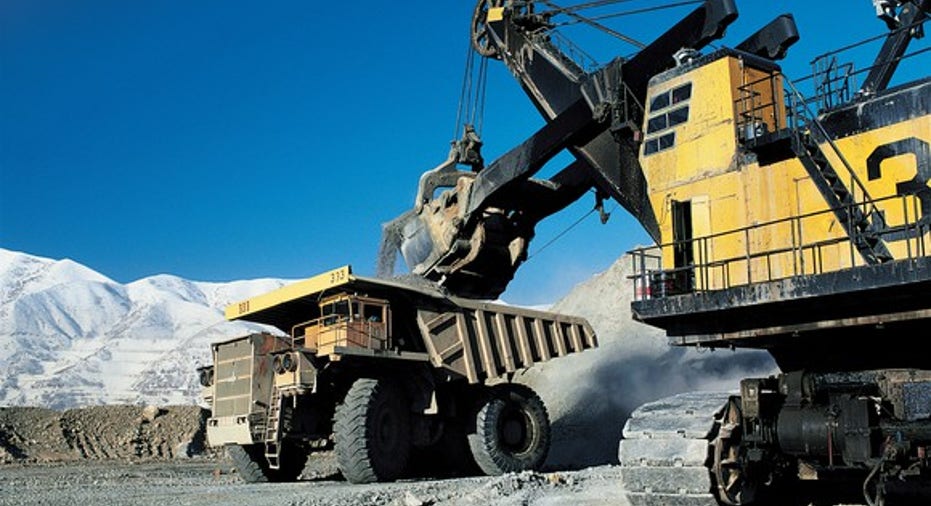 What happened
Shares of Silver Standard Resources (NASDAQ: SSRI), a gold and silver mining company with properties located in Canada, the United States, and Argentina, catapulted by 18% in January, according to data from S&P Global Market Intelligence. Silver Standard's fourth-quarter production results, its fiscal 2017 production guidance, and the recent movement in physical silver prices all appear to have helped push its valuation higher last month.
So what
On Jan. 11, Silver Standard Resources reported its fourth-quarter production results and issued its 2017 production guidance, both of which seemed to generally please Wall Street and confirm the company's ongoing turnaround.
Image source: Getty Images.
Of particular note, all three of Silver Standard's producing mines met or exceeded their previously forecasted guidance, leading to 393,325 gold equivalent ounces (GEO) produced in 2016. This included a little over 205,000 gold ounces from Marigold in Nevada; 77,640 gold ounces from the Seabee mine in Canada (the highest output for Seabee in its 26-year mining history); and 10.4 million ounces of silver from the Pirquitas mine in Argentina.
Looking ahead, Silver Standard Resources is forecasting 205,000 to 215,000 ounces of gold from Marigold in 2017, between 72,000 and 82,000 ounces of gold from Seabee, and 4.5 million to 5.5 million silver ounces from Pirquitas. It's important to note that the San Miguel open pit mine is winding down operations, which is the reason why Pirquitas' silver production is expected to drop off in 2017. On the other hand, with stockpiles being sold off, capital expenditures for Pirquitas are minimal at $5 million. Overall, Silver Standard Resources expects to produce 355,000 GEO at a GEO cash cost of $735 per ounce.
The other catalyst for Silver Standard Resources was a 10% increase in the price of silver during January, which was precipitated by the weakest start to a new year for the U.S. dollar since 1987. Trump's lack of political and military experience has some investors on edge in the early weeks of his presidency, which is weighing on the dollar. Since the dollar and silver tend to have an inverse relationship, companies that mine silver have felt the benefits of higher spot silver prices.
Image source: Getty Images.
Now what
In addition to meeting or beating its production guidance in 2016, Silver Standard Resources also lowered its cash cost guidance on three separate occasions. This was a result of improved production and, in some cases, higher ore grades than expected.
Without question, the acquisition of Claude Resources in 2016 has changed Silver Standard's trajectory. The Santoy Gap within the Seabee mine gave Claude an extra 20,000 ounces of gold production per year which, in 2016, translated into record results. With Silver Standard signing an option agreement to potentially acquire up to 80% of the Fisher project, which is located adjacent to the Seabee mine, there could still be plenty of treasures for Silver Standard left to unearth in Canada.
The big question moving forward is what Silver Standard will do next on the merger and acquisition front. It's no secret that with Pirquitas' open mine operations winding down, management will want to fill that void. Without Pirquitas' production, Silver Standard will, ironically given its name, be a gold producing company (which wouldn't be all that bad, mind you). Look for Silver Standard to go shopping for new assets in 2017.
As a long-term shareholder of Silver Standard Resources, I'm certainly satisfied with how management has kept costs in check and increased production organically and via acquisition. Looking ahead, I continue to expect Silver Standard Resources' stock to have room to run higher.
10 stocks we like better than Silver Standard ResourcesWhen investing geniuses David and Tom Gardner have a stock tip, it can pay to listen. After all, the newsletter they have run for over a decade, Motley Fool Stock Advisor, has tripled the market.*
David and Tom just revealed what they believe are the 10 best stocks for investors to buy right now... and Silver Standard Resources wasn't one of them! That's right -- they think these 10 stocks are even better buys.
Click here to learn about these picks!
*Stock Advisor returns as of February 6, 2017
Sean Williams owns shares of Silver Standard Resources. The Motley Fool has no position in any of the stocks mentioned. The Motley Fool has a disclosure policy.