Why Sierra Wireless, G-III Apparel Group, and Netgear Slumped Today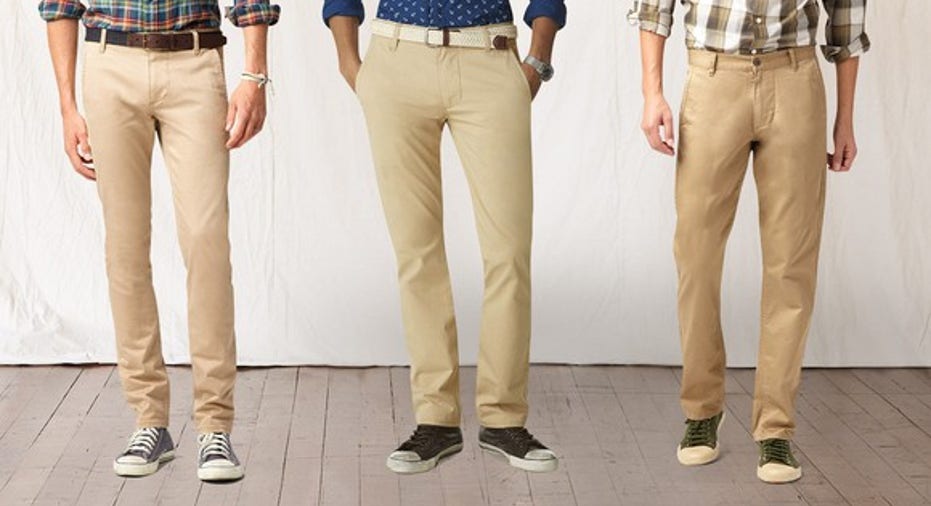 The stock market began the week in mixed territory on Monday as investors considered the affects of potential legislative roadblocks on the Trump administration's promise for pro-growth tax reform and infrastructure spending. Late last week, Republicans failed to gather enough support to push their healthcare reform bill through a key House vote.
When all was said and done today, theDow Jones Industrial Averagepared an early triple-digit decline to close down around 0.2%. Other broader market indexes saw similar early negative moves, though theNasdaqultimately closed up 0.2% while theS&P 500fell 0.1%.But several individual stocks left investors dealing with more painful drops today, includingG-III Apparel Group(NASDAQ: GIII),Sierra Wireless (NASDAQ: SWIR), and Netgear (NASDAQ: NTGR). Read on to learn what happened.
Image source: Dockers/G-III Apparel Group.
G-III falls short
Shares of G-III Apparel Group declined 14.1% after the company announced weaker-than-expected fiscal fourth-quarter 2017 results. Best known as the parent company of brands like GUESS, DKNY, Calvin Klein, Tommy Hilfiger, Levi's, and Dockers, G-III saw revenue in its most recent quarter climb 14.4% year over year, to $603 million, as strength in its non-outerwear wholesale business and its acquisition of Donna Karan International (DKI) last year more than offset weakness in its retail business. On the bottom line, that translated to an adjusted net loss of $0.16 per share. Analysts, on average, were anticipating a narrower adjusted net loss of $0.10 per share on higher revenue of $622.8 million.
What's more, G-III told investors to expect revenue in the current 2018 fiscal year to be roughly $2.73 billion, which should result in adjusted net income between $49 million and $54 million, or $0.99 to $1.09 on a per-share basis. Here again, Wall Street was looking for higher fiscal 2018 earnings of $1.41 per share on revenue of $2.88 billion.
G-III CEO Morris Goldfarb noted that his company's outlook includes the dilutive impact of its DKI acquisition, and expressed excitement for the midyear relaunch of both DKNY and Donna Karan.
"We are confident that we have one of the most desirable portfolios of brands in the industry and that DKNY and Donna Karan will quickly take their place alongside Calvin Klein, Tommy Hilfiger, and Karl Lagerfeld as the cornerstone brands for the growth of our business," added Goldfarb.
A downgrade for Sierra Wireless
Sierra Wireless stock fell 6.7% today after Raymond James analyst Steven Li downgraded shares of the Internet of Things pure play to market perform from outperform. Curiously, Li also increased his per-share price target on Sierra Wireless to $30 from $23.50.
Of course, shares of Sierra Wireless have also climbed nearly 80% so far in 2017 (even after today's drop), most recently including a 29% single-day pop last month after the company detailed strong design win momentum, normalizing demand from existing customers, and expense-management efforts for its impressive fourth-quarter 2016 results.
To help justify his tempered enthusiasm today, Li noted that Sierra Wireless' recent high-volume contract wins may come at the expense of margins, even though those contracts won't ramp completely for another two years. Even so, given Sierra Wireless' meteoric rise in recent months, it's hardly surprising to see some on Wall Street taking a step back today.
A "strong" opinion on Netgear
Finally, shares of Netgear declined 3.5% today after analyst firm Off Wall Street assigned a "strong sell" rating and $36 price target to shares of the network hardware specialist. That's a hefty discount to Netgear stock's closing price today of $49.65 per share.Off Wall Street argues that Netgear's fast-growing Arlo security camera line, which represented 12% of total revenue last year, faces the threat of increasing competition, and believes its high-margin Wi-Fi routers are being replaced by up-and-coming whole-home mesh Wi-Fi solutions.
Shares of Netgear are still up around 25% over the past year on the strength of its thriving retail business, which has more than offset declines of the company's restructured service provider business. Last month, however, shares dropped 10% in a single day after Netgear delivered strong fourth-quarter 2016 results but followed with lighter-than-expected revenue guidance to start 2017. At the time, management noted that seasonality for its Arlo IP cameras was more pronounced than that of its flagship Wi-Fi routers as it transitioned out of the key holiday quarter.
Offer from The Motley Fool: The 10 best stocks to buy nowMotley Fool co-founders Tom and David Gardner have spent more than a decade beating the market. In fact, the newsletter they run, Motley Fool Stock Advisor, has tripled the S&P 500!*
Tom and David just revealed their ten top stock picks for investors to buy right now.
Click here to get access to the full list!
*Stock Advisor returns as of 3/24/2017.
Steve Symington has no position in any stocks mentioned. The Motley Fool owns shares of and recommends Sierra Wireless. The Motley Fool recommends Netgear. The Motley Fool has a disclosure policy.