Why ShoreTel, Inc. Stock Plunged Today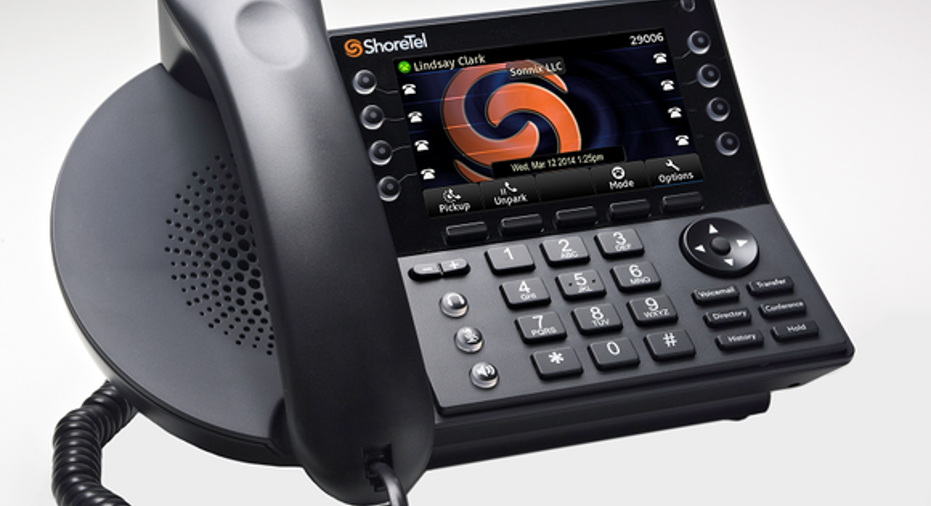 IMAGE SOURCE: SHORETEL INC.
What:Shares of ShoreTel (NASDAQ: SHOR) dropped 14.2% Friday after the telecommunications vendor announced weaker-than-expected fiscal third-quarter 2016 results.
So what:Quarterly revenue rose 0.6% year over year, to $85.2 million, and based on generally accepted accounting principles (GAAP), translated to a net loss of $8.7 million, or $0.13 per share. On an adjusted (non-GAAP) basis, which excludes items like stock-based compensation and acquisitions expenses, ShoreTel's net loss came in at $3.9 million, or $0.06 per share, compared to adjusted net income of $2.6 million, or $0.04 per share in the same year-ago period.Analysts, on average, were anticipating a narrower adjusted net loss of $0.04 per share, and higher revenue of $88.6 million.
ShoreTel CEO Don Joos focused on what went right, stating: "In the fiscal third quarter we accelerated both cloud bookings and hosted revenue, with particular strength from mid-market and enterprise customers. We continued to execute on our five catalysts for growth as we introduced new ShoreTel Connect Features, expanded our cloud geographic footprint, and launched the premises to cloud migration program to leverage our installed base to drive hosted revenue growth."
Hosted revenue climbed 22% year over year, to $32.8 million, and ShoreTel's total number of installed customer seats rose 27%, to 218,000. Meanwhile, support and services revenue rose 1% year over year, to $18.5 million. And recurring revenue, which is comprised of combined revenue from hosted and related services, as well as support, represented 58% of ShoreTel's total revenue during the quarter. However, this growth was almost entirely offset by a 14% year-over-year decline in product revenue, to $33.9 million.
Now what:For the current quarter, ShoreTel anticipates revenue of $88 million to $94 million, well below analysts' consensus estimates calling for $96.2 million.
ShoreTel is undeniably making progress capitalizing on its strategic-growth catalysts. But investors can't ignore the fact that progress is being thwarted by declines in its core-products segment. Given ShoreTel's quarterly miss and light guidance, it's hard to blame the market for taking a step back today.
The article Why ShoreTel, Inc. Stock Plunged Today originally appeared on Fool.com.
Steve Symington has no position in any stocks mentioned. The Motley Fool has no position in any of the stocks mentioned. Try any of our Foolish newsletter services free for 30 days. We Fools may not all hold the same opinions, but we all believe that considering a diverse range of insights makes us better investors. The Motley Fool has a disclosure policy.
Copyright 1995 - 2016 The Motley Fool, LLC. All rights reserved. The Motley Fool has a disclosure policy.