Why Shopify Inc. Stock Surged 18.5% in January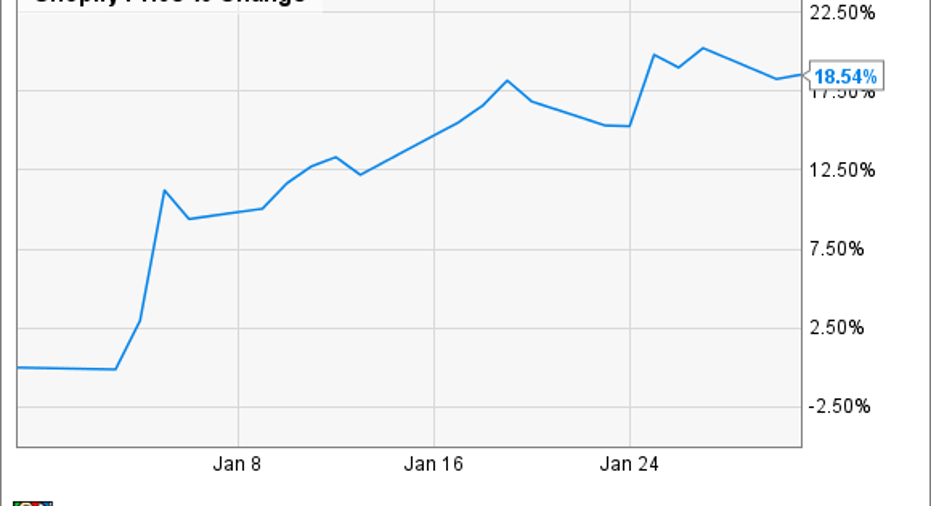 What happened
Shares ofShopify(NYSE: SHOP) jumped 18.5% last month, according to data provided byS&P Global Market Intelligence.
So what
The cloud-based commerce platform made its integration with Amazon.com (NASDAQ: AMZN) generally available to its more than 325,000 merchants in December. The connection gives Shopifystore owners seamless access to the millions of customers searching for products to buy onAmazon.
"Our work withAmazonis an important step in strengthening our robust multichannel commerce strategy and the ability of our merchants to sell anywhere their customers buy," saidBrandon Chu, Director of Product atShopify, in a press release. "With an estimated 40% ofShopifymerchants already selling in online marketplaces,Shopifyhas further simplified the processes to gain entry into Amazon."
Shopify also announced a continuation of its partnership with famed life and business strategist Tony Robbins in January. Winners of Shopify's 2017 Build a Bigger Business competition -- this year's version of the company's long-running entrepreneurial contest -- will get to embark on a learning retreat with Robbins and otherShopifycoaches, along with receiving a host of other prizes.
Image source: Shopify.
"Helping the leaders of tomorrow stretch the boundaries of what they thought was possible is a long-time passion of mine, and I'm thrilled to continue this partnership," Robbins said.
Impressively, Shopify's competitions have helped create over a 100,000 new businesses that have sold millions of dollars in products.
"Since the launch of the Build a Business program in 2010, we've seen thousands of companies start and grow successful businesses usingShopifyunder the tutelage of the world's best business minds," saidShopify COO Harley Finkelstein. "In keeping with tradition, we're equally excited to watch this year's field of competitors embark on a new journey."
Now what
The integration with Amazon helps to further strengthen Shopify's platform, which now allows merchants toconveniently manage their product catalog for their e-commerce website, Amazonstore, retail store,and other sales channels all in one place.
Additionally, the partnership with Robbins should help drum up even more excitement around Shopify's business competition. In turn, many of the entrepreneurs that take part in the program could receive the resources and coaching they need to take their businesses to the next level. It's a win-win, as Shopify's revenue -- particularly in its payments service -- scales nicely along with the success of its merchant customers.
As such, I expect Shopify to once again post strong increases in sales and profits when it reports earnings on Feb. 15, and in the quarters ahead.
10 stocks we like better than ShopifyWhen investing geniuses David and Tom Gardner have a stock tip, it can pay to listen. After all, the newsletter they have run for over a decade, Motley Fool Stock Advisor, has tripled the market.*
David and Tom just revealed what they believe are the 10 best stocks for investors to buy right now... and Shopify wasn't one of them! That's right -- they think these 10 stocks are even better buys.
Click here to learn about these picks!
*Stock Advisor returns as of February 6, 2017
Joe Tenebruso has no position in any stocks mentioned. The Motley Fool owns shares of and recommends Amazon and Shopify. The Motley Fool has a disclosure policy.