Why Shopify Inc. Soared 26% in March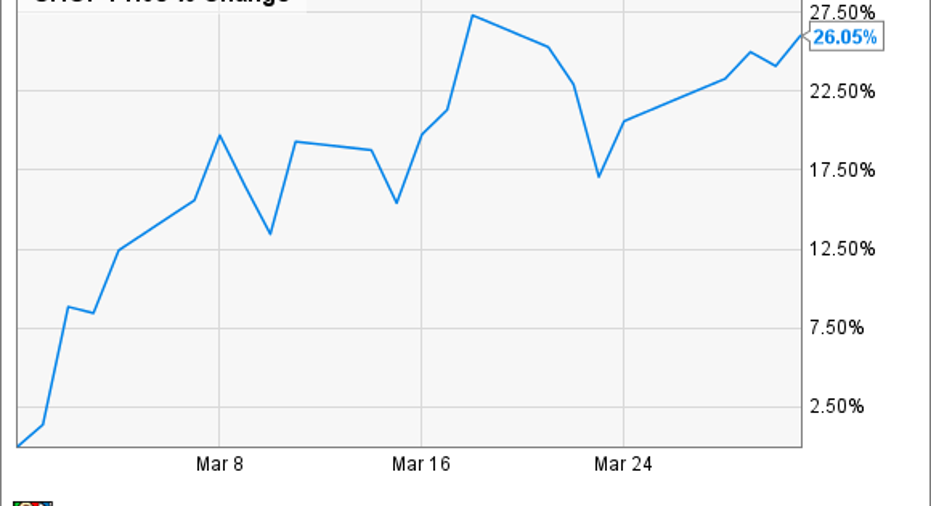 Image source: YCHARTS.
What:Shares of Shopify surged 26.1% last month, according to data provided by S&P Global Market Intelligence. The provider of cloud-based commerce solutions for small- and medium-sized businesses saw its stock price boosted by an analyst upgrade as well as rumors that the company could be a takeover target.So what: In early March, research firm Pacific Crest upgraded Shopify's share to "overweight" from "equal weight" and set a $35 12-month price target for the stock. With Shopify's shares trading around $26 at the time, Pacific Crest's price target implied about 35% upside potential for the stock over the next year.
Analyst Brendan Barnicle noted that Shopify's valuation had improved significantly after its stock price pulled back nearly 40% from its 52-week high of $42.13. Barnicle also highlighted the inability of Shopify's larger competitors to move down-market in order to compete with Shopify in its primary niche as an e-commerce solutions provider to small businesses. Additionally, Barnicle made positive comments regarding the inherent operating leverage in Shopify's business model:
Now what: Further boosting Shopify's stock price was a report by Re/code that tech titan Google has assembled an "early working list" of acquisition targets in the areas of cloud computing and workplace applications, including Shopify.
Shopify would fit nicely under the Alphabet umbrella. The move would bolster the company's e-commerce and mobile payments solutions. And as fellow Fool Leo Sun points out, Google could use Shopify's features to strengthen its Google Wallet, Android Pay, and Google Express services.
With a market cap of only about $2.4 billion, Shopify could be an attractive acquisition for multiple cash-rich tech leaders. In addition to Alphabet, I wouldn't be surprised to see a bid for Shopify from the likes of Facebook, Amazon, and/or Ebay. Importantly for investors, however, is that Shopify -- as the leading cloud-based commerce platform for small businesses -- appears poised to deliver strong gains in the years ahead, whether or not an acquisition bid materializes.
The article Why Shopify Inc. Soared 26% in March originally appeared on Fool.com.
Suzanne Frey, an executive at Alphabet, is a member of The Motley Fools board of directors. Joe Tenebruso has no position in any stocks mentioned. The Motley Fool owns shares of and recommends GOOG, GOOGL, AMZN, EBAY, and FB. The Motley Fool recommends SHOP. Try any of our Foolish newsletter services free for 30 days. We Fools may not all hold the same opinions, but we all believe that considering a diverse range of insights makes us better investors. The Motley Fool has a disclosure policy.
Copyright 1995 - 2016 The Motley Fool, LLC. All rights reserved. The Motley Fool has a disclosure policy.