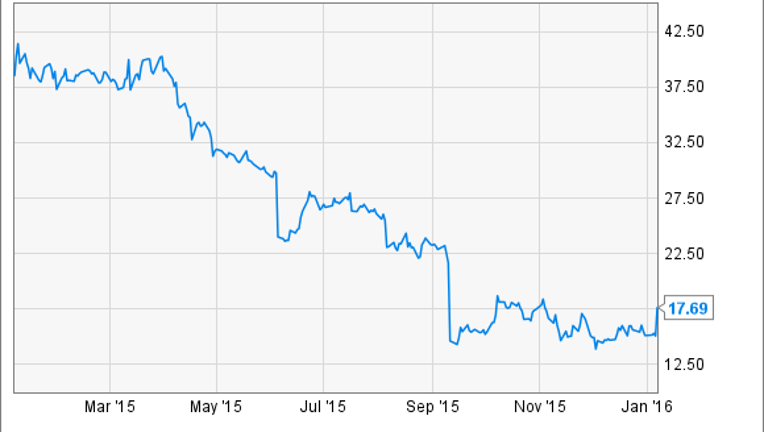 What: Shares of specialty retailer Zumiez jumped on Thursday following the company's December sales report. At noon, the stock was up about 16.5%.
So what: Zumiez results during December were not positive, but the company raised its guidance for the fourth quarter, which in turn pushed the stock price higher. Zumiez reported a 6.2% year-over-year decrease in sales, with comparable sales falling by 8.9%. During the same period last year, comparable sales increased by 8%. Given this dramatic shift, it should be no surprise that the stock has tumbled over the past year.
Despite Zumiez reporting a steep drop in sales, results were better than expected. Zumiez announced that it was raising its guidance for the fourth quarter, with revenue expected between $237 million and $239 million, and earnings per share between $0.45 and $0.47. This new guidance is based on an expected comparable-sales decrease of 11% during the fourth quarter. Previously, the company had guided for between $226 million and $231 million of revenue and between $0.40 and $0.46 of EPS.
Now what: With shares of Zumiez down about 60% over the past year even after Thursday's jump, all it took was the slightest bit of good news to send the stock soaring. Despite its falling sales, Zumiez is still not a particularly inexpensive stock, trading for about 15 times trailing-12-month earnings. The company will need to turn things around quickly or the stock could suffer another major decline in 2016.
The article Why Shares of Zumiez Inc. Jumped on Thursday originally appeared on Fool.com.
Timothy Green has no position in any stocks mentioned. The Motley Fool has no position in any of the stocks mentioned. Try any of our Foolish newsletter services free for 30 days. We Fools may not all hold the same opinions, but we all believe that considering a diverse range of insights makes us better investors. The Motley Fool has a disclosure policy.
Copyright 1995 - 2016 The Motley Fool, LLC. All rights reserved. The Motley Fool has a disclosure policy.