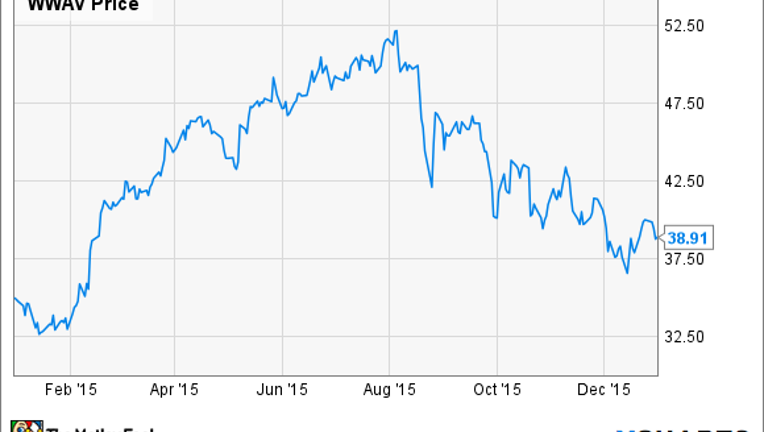 What:Shares of organic-food company TheWhiteWave Foods Company finishedhigher again in 2015, gaining 11%, according to data from S&P Capital IQ. However, the winning year was entirely attributable to strong gains in the first half as the stock sank through much of the second half of the year. The chart below tells the story.
So what:WhiteWave, which is the parent of several alternative dairy brands like Silk soy milk and Horizon organic milk, had been on a tear since it was spun off from Dean Foodsin 2013. The stock jumped more than 50% in both 2013 and 2014 as secular growth in organic and alternative foods drove sales and shares higher. WhiteWave kept the rally going at the beginning of the year with a strong fourth-quarter earnings report, sending the stock up 7% on Feb. 12. EPS of $0.27 matched analyst estimates, while sales jumped 34%, to $911 million, easily beating the Street view at $898 million.
The stock surged again in May when it topped estimates in its second-quarter earnings report with a $0.24-per-share profit against expectations of $0.22. The company also raised its full-year outlook despite headwinds form currency fluctuations.
After peaking above $52 in August, shares began to fall, first with a disappointing earnings report, and then with the broad-based sell-off that crashed the market later in August. As a high-priced stock, WhiteWave was perhaps more vulnerable than most. The decline continued in October following a downgrade fromGoldman Sachsto sell, in response to slower organic sales.Shares continued to decline to close out the year.
Now what:Going into 2016, WhiteWave's valuation seems to have come in line with its more-muted growth expectations. Analysts are expecting just 11.5% revenue growth this year, following a full-year projection of 13% in 2015. The organic market should continue to put up solid growth for years to come, and WhiteWave will be a beneficiary of that trend. However, its days of soaring stock growth are probably over for now.
The article Why Shares of WhiteWave Foods Co Gained 11% in 2015 originally appeared on Fool.com.
Jeremy Bowman has no position in any stocks mentioned. The Motley Fool owns shares of and recommends WhiteWave Foods. Try any of our Foolish newsletter services free for 30 days. We Fools may not all hold the same opinions, but we all believe that considering a diverse range of insights makes us better investors. The Motley Fool has a disclosure policy.
Copyright 1995 - 2016 The Motley Fool, LLC. All rights reserved. The Motley Fool has a disclosure policy.