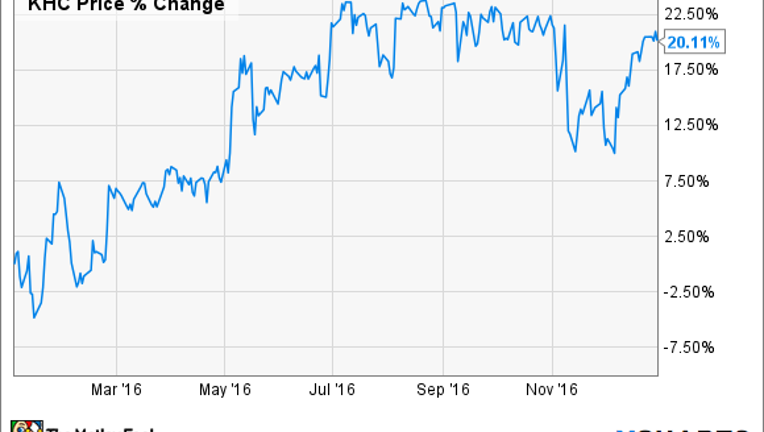 Image source: The Kraft Heinz Company.
What happened
Shares ofThe Kraft Heinz Company(NASDAQ: KHC) rose 20% in 2016, according to data provided byS&P Global Market Intelligence. Iconic snack and food product brands Kraft and Heinz merged in 2015, and shares grew in 2016 as the newly merged company reported solid earnings growth throughout the year.
So what
Many analysts were excited by the prospect of Kraft and Heinz merging, sparked in part by Warren Buffett andBerkshire Hathaway(NYSE: BRK-A) (NYSE: BRK-B) taking about a 25% stake in the new entity. Turns out, those analysts were right, as the company has grown impressively throughout 2016.
In the company's most recent earnings report, for the period ended Oct. 2, net sales only grew 2.4%, but earnings shot up thanks to cost and operation synergies of the two companies. Operating income grew 254% year over year, and adjusted EPS rose to $0.83, compared to $0.44 for the same period in the prior year.
Image source: The Kraft Heinz Company.
Now what
Kraft Heinz is largely considered a "consumer defensive" company, meaning it's a relatively safe play in a volatile market, as even in the event of a market correction, people are still eating inexpensive products like Oscar Mayerand Kraft Macaroni & Cheese. Thishas helped the brands to stay relatively stable throughout market turmoil in years past. That's also why the 2016 growth in a slow-growth industry is such an important feat.
As a result of that growth, though, Kraft Heinz stock now looks expensive, trading at 38 times earnings. Still, the stock offers an attractive dividend with a 2.7% yield even after the 20% share price growth in the last year, and that has grown nicely in recent years, including the most recent nearly 5% rise in August. Additionally, the company has plans to continue unlocking value from the merger and increase its brands' presence in new markets. In the most recent quarterly earnings release, CEOBernardo Hees said, "Our focus now is to finish 2016 strong and set the stage for another year of strong, profitable growth in 2017."
10 stocks we like better than The Kraft Heinz Company When investing geniuses David and Tom Gardner have a stock tip, it can pay to listen. After all, the newsletter they have run for over a decade, Motley Fool Stock Advisor, has tripled the market.*
David and Tom just revealed what they believe are the 10 best stocks for investors to buy right now...and The Kraft Heinz Company wasn't one of them! That's right -- they think these 10 stocks are even better buys.
Click here to learn about these picks!
*Stock Advisor returns as of January 4, 2017.
Seth McNew owns shares of The Kraft Heinz Company. The Motley Fool has no position in any of the stocks mentioned. The Motley Fool has a disclosure policy.