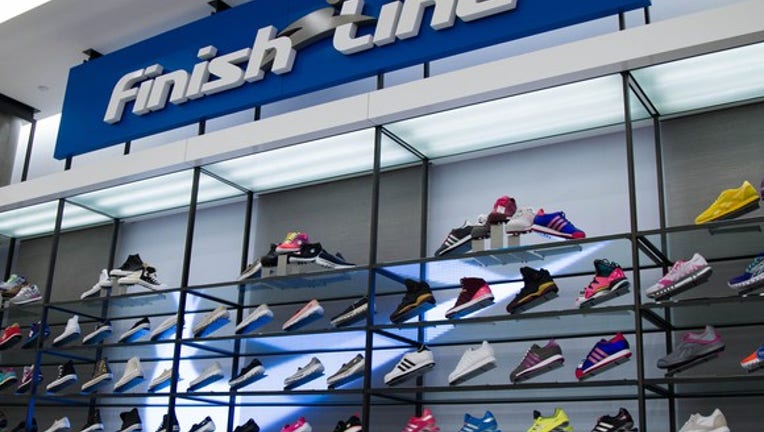 Image source: The Finish Line.
What happened
Shares of footwear and apparel retailer The Finish Line (NASDAQ: FINL) dropped on Wednesday following a disappointing third-quarter report. The company fell well short of analyst expectations, with major declines in apparel and accessory sales hurting its results. At 10:45 a.m., Finish Line stock was down about 11.5%.
So what
Finish Line reported third-quarter revenue of $371.7 million, up 3% year over year but nearly $40 million below the average analyst estimate. Comparable-store sales rose by just 0.7%, while the company's partnership with department store Macy's produced 33% growth.
Non-GAAP (adjusted) per-share loss came in at $0.24, better than a $0.44 loss during the third quarter of 2015 but $0.06 below analyst expectations. Looking ahead, Finish Line expects comparable sales to decline by 3% to 5% during the fourth quarter, with non-GAAP earnings per share between $0.68 and $0.73. For the full year, comparable sales are expected to grow by 0% to 1%, with non-GAAP EPS between $1.24 and $1.30.
Finish Line CEO Sam Sato explained the company's poor results:
Now what
Going forward, Finish Line is focusing on its core footwear business and its partnership with Macy's. Both areas produced solid growth during the third quarter, but apparel and accessories knocked down the company's results.
Sato remains optimistic about the company's plan:
10 stocks we like better than The Finish Line When investing geniuses David and Tom Gardner have a stock tip, it can pay to listen. After all, the newsletter they have run for over a decade, Motley Fool Stock Advisor, has tripled the market.*
David and Tom just revealed what they believe are the 10 best stocks for investors to buy right now... and The Finish Line wasn't one of them! That's right -- they think these 10 stocks are even better buys.
Click here to learn about these picks!
*Stock Advisor returns as of Nov. 7, 2016
Timothy Green has no position in any stocks mentioned. The Motley Fool has no position in any of the stocks mentioned. Try any of our Foolish newsletter services free for 30 days. We Fools may not all hold the same opinions, but we all believe that considering a diverse range of insights makes us better investors. The Motley Fool has a disclosure policy.