Why Shares of TASER International, Inc. Popped 22% in November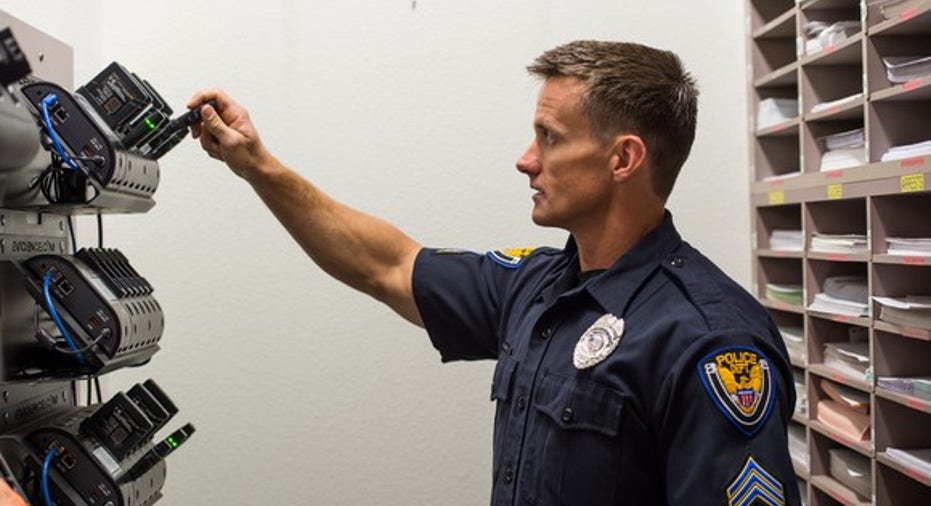 Image source: Getty Images.
What happened
Shares of Taser and body camera company TASER International, Inc. (NASDAQ: TASR) jumped an impressive 21.7% in November, after the company reported strong third-quarter earnings. But the stock has given back nearly all of those gains in the first week of trading in December.
So what
Third-quarter results were about as good as it gets for TASER International. Revenue was up 43% to $71.9 million, and net income more than doubled to $3.8 million. But the real progress is in the Axon business, where revenue was up 75% to $18.9 million and service revenue from products like Evidence.com were up 179% to $8.7 million.
The quarter showed the returns of investments the company has made in new body-camera products, as well as a line of services. As more law-enforcement agencies around the world adopt these products, the company has a lot of room for growth.
December's decline was actually driven by a contract the company didn't win. The Orlando Police Department decided to go with a $1.1 million bid from Motorola Solutions Inc. to supply body cameras rather than a $600,000 bid from TASER International. This is after an officer involved in the program was revealed to have been paid to train officers in another department on the use of TASER cameras, which could have affected the company's chance at winning.
Now what
Investors need to look at the last month of trading from both long-term and short-term perspectives. Long term, the business is doing extremely well, and it's growing adoption and high-margin recurring revenue that will drive profit growth.
Short term, the market seems to freak out every time TASER International loses a contract. And while it would like to win every one, the loss in Orlando is both small and understandable, given the history there. With that in mind, I think the long-term story is far more important than the short-term one, and that leaves shares at a very attractive level a week into December.
10 stocks we like better than Taser International When investing geniuses David and Tom Gardner have a stock tip, it can pay to listen. After all, the newsletter they have run for over a decade, Motley Fool Stock Advisor, has tripled the market.*
David and Tom just revealed what they believe are the 10 best stocks for investors to buy right now... and Taser International wasn't one of them! That's right -- they think these 10 stocks are even better buys.
Click here to learn about these picks!
*Stock Advisor returns as of Nov. 7, 2016
Travis Hoium owns shares of Taser International. The Motley Fool recommends Taser International. Try any of our Foolish newsletter services free for 30 days. We Fools may not all hold the same opinions, but we all believe that considering a diverse range of insights makes us better investors. The Motley Fool has a disclosure policy.