Why Shares of Staples Soared 30.7% in November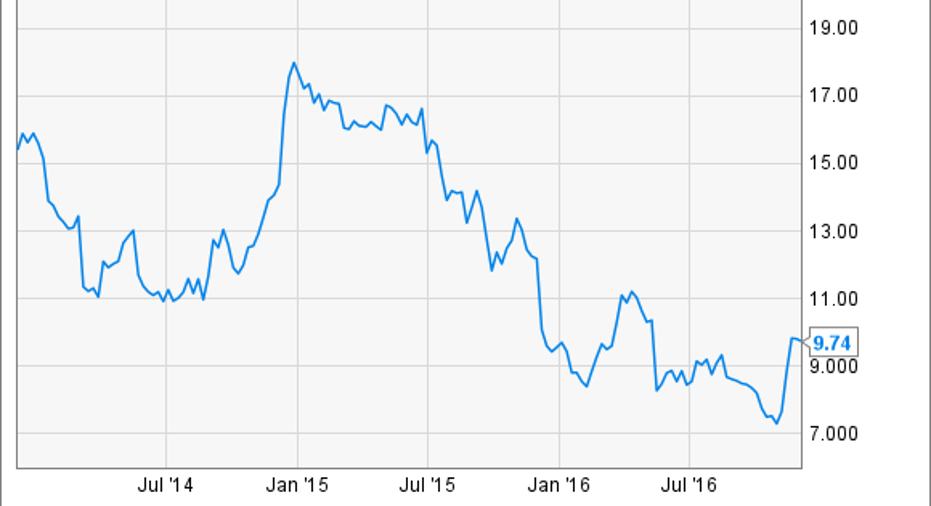 Image source: Staples.
What happened
Shares of office-supply retailer Staples (NASDAQ: SPLS) surged 30.7% in November, according to data provided byS&P Global Market Intelligence. A variety of factors may have contributed to the gain, including an earnings report, the fact that the stock has been beaten down severely over the past year, and the results of the election.
So what
Staples stock began its surge following the election of Donald Trump, who is promising to lower corporate tax rates. With the company's tax rate averaging about 33% over the past three years, a corporate tax cut would give a meaningful boost to the company's bottom line.
Prior to November, the stock had lost 22% of its value year to date and 54% of its value over the past three years. The failure of the Office Depot merger sent the stock tumbling earlier this year, and November's gain only partially made up for it.
While Staples is facing problems, particularly with its retail and international businesses, the company still expects to produce $700 million of free cash flow this year, excluding costs associated with the failed merger. At a stock price of $7.24, the 52-week low it reached in October, the company was valued at just $4.7 billion, less than seven times free cash flow. Part of the surge in the stock price in November may simply be due to pessimism getting out of hand.
Staples reported earnings on Nov. 17, but the results were mixed relative to analyst expectations, and there weren't any surprises.
Now what
Staples is actively closing retail stores in an effort to maintain profitability, so revenue growth is unlikely anytime soon. The commercial business is growing, excluding divestitures, providing a reliable source of profits for the company. While Staples's retail business is under threat from online retailers, the commercial business will be more difficult to disrupt.
Staples was dealt a blow when its merger with Office Depot was blocked. Going forward, the company will need to put that failure behind it and find a way to eventually return to growth.
10 stocks we like better than Staples When investing geniuses David and Tom Gardner have a stock tip, it can pay to listen. After all, the newsletter they have run for over a decade, Motley Fool Stock Advisor, has tripled the market.*
David and Tom just revealed what they believe are the 10 best stocks for investors to buy right now... and Staples wasn't one of them! That's right -- they think these 10 stocks are even better buys.
Click here to learn about these picks!
*Stock Advisor returns as of Nov. 7, 2016
Timothy Green owns shares of Staples. The Motley Fool has no position in any of the stocks mentioned. Try any of our Foolish newsletter services free for 30 days. We Fools may not all hold the same opinions, but we all believe that considering a diverse range of insights makes us better investors. The Motley Fool has a disclosure policy.