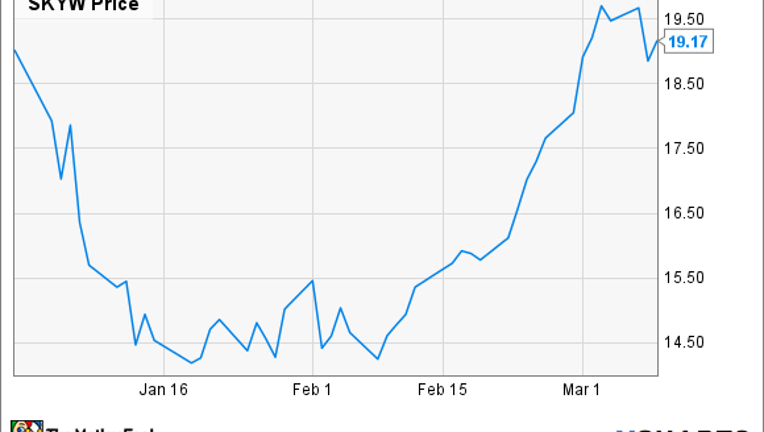 What: Shares of top regional airline operator SkyWest soared 20% during February, according to data provided by S&P Global Market Intelligence. SkyWest stock has continued to climb in the first week or so of March, allowing it to fully reverse the 21% plunge it took in January.
SkyWest YTD Stock Performance, data by YCharts.
So what: Even the Chapter 11 filing of SkyWest's biggest competitor, Republic Airways , couldn't hold down SkyWest stock last month. First, the company posted a solid Q4 earnings report in early February, with earnings per share of $0.49 coming in $0.04 ahead of the average analyst estimate.
However, most of the stock's gains actually came later in the month. One key catalyst may have been the ratification of a two-year pilot contract extension at ExpressJet, one of SkyWest's two key subsidiaries. The regional airline sector is facing a growing pilot shortage. That was one of the key factors behind Republic Airways' bankruptcy filing. The new pilot contract at ExpressJet should help SkyWest continue to attract and retain qualified pilots.
SkyWest could also potentially benefit from the turmoil at Republic Airways. While Republic will continue to operate despite filing for bankruptcy, it may choose to shed some of its flying contracts. That could provide profitable growth opportunities for SkyWest as the legacy carriers scramble to make sure they have enough regional capacity.
Now what: SkyWest is well-positioned to produce further profit growth in the next year or two. The E175 jet is the most profitable plane for regional airlines to operate today, and SkyWest already has firm contracts to more than double the size of its E175 fleet by mid-2017.
SkyWest could potentially pick up further E175 growth opportunities this year, depending on how much Republic Airways has to scale back its flying commitments.
Nevertheless, rising pilot pay and the growing pilot shortage remain serious long-term threats to all regional airlines. While SkyWest is somewhat insulated from these issues for now, that may not be the case forever. Investors should therefore remain cautious about SkyWest stock.
The article Why Shares of SkyWest, Inc. Soared 20% in February originally appeared on Fool.com.
Adam Levine-Weinberg has no position in any stocks mentioned. The Motley Fool has no position in any of the stocks mentioned. Try any of our Foolish newsletter services free for 30 days. We Fools may not all hold the same opinions, but we all believe that considering a diverse range of insights makes us better investors. The Motley Fool has a disclosure policy.
Copyright 1995 - 2016 The Motley Fool, LLC. All rights reserved. The Motley Fool has a disclosure policy.