Why Shares of RH Are Declining Despite Higher Revenue Guidance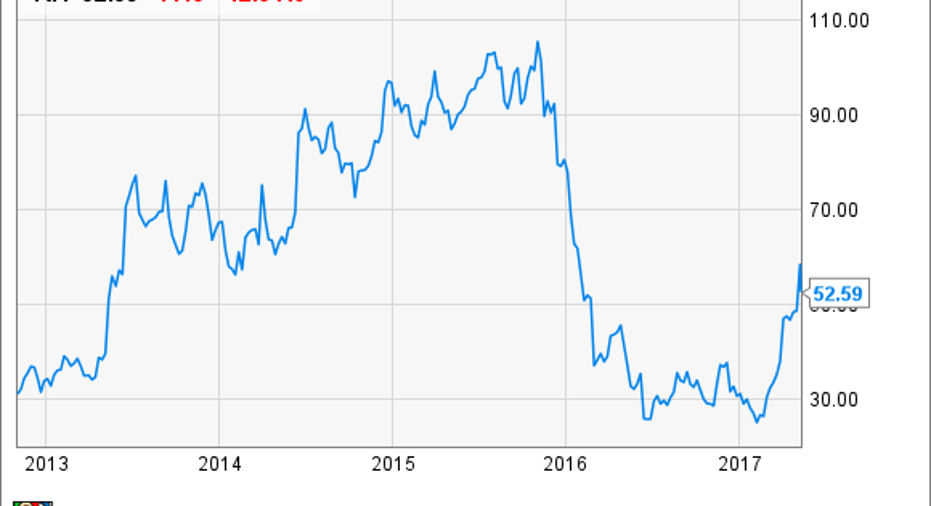 What happened?
Not even a week after shares of RH (NYSE: RH), a growing luxury brand in the home furnishings niche, jumped 10% on the news of a large share buyback program, the stock gave up those gains and then some Thursday morning, falling by as much as 13%. As of noon EDT, the shares were off by about 8%. The driving force behind the decline is the company's updated first-quarter guidance.
So what?
At first glance, investors might think the news was actually positive for RH. Management now expects net revenues in the range of $558 million to $562 million. That's up from the prior guidance in the range of $530 million to $545 million, and it moves its expected revenue growth from between 16% and 20% to roughly 23% at the midpoint. On the bottom line, RH narrowed its earnings-per-share guidance range from $0.02 to $0.06 down to $0.03 to $0.05.
Image source: Getty Images.
The bad news is that despite the anticipated 23% growth in revenue, 600 basis points of that is due to the 2016 addition of Waterworks and another 600 basis points is from higher outlet and warehouse sales -- meaning its core business revenue is increasing roughly 11%. And while 11% is nothing to sneeze at, it is indeed slower than its growth prior to 2016, when the company hit some speed bumps.
Now what?
"As we look forward to fiscal 2017, we expect sales growth to continue, operating margins to expand, and to generate significant free cash flow. We remain confident in our ability to drive long-term sustainable growth, improved returns on capital, and tremendous value for our shareholders." said Chairman and CEO Gary Friedman in a press release.
Though the stock is giving up last week's gains, not much has materially changed. The company is still in the middle of transitioning, and attempting to stoke top-line growth with new product lines while reducing margin pressure by improving operating efficiencies in shipping and advertising, among other factors. It's all going to come down to execution for the company to regain the momentum it had prior to 2016, and investors can expect volatility until its transition gains more traction.
10 stocks we like better than RHWhen investing geniuses David and Tom Gardner have a stock tip, it can pay to listen. After all, the newsletter they have run for over a decade, Motley Fool Stock Advisor, has tripled the market.*
David and Tom just revealed what they believe are the 10 best stocks for investors to buy right now... and RH wasn't one of them! That's right -- they think these 10 stocks are even better buys.
Click here to learn about these picks!
*Stock Advisor returns as of May 1, 2017
Daniel Miller has no position in any stocks mentioned. The Motley Fool recommends RH. The Motley Fool has a disclosure policy.