Why Shares of Restoration Hardware Tumbled Today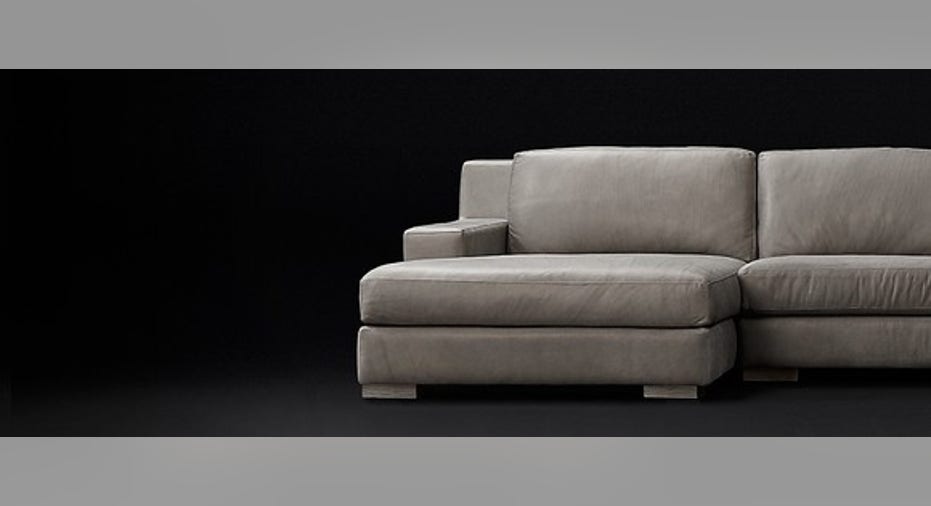 Image source: Restoration Hardware.
What happened
Shares of furniture retailer Restoration Hardware (NYSE: RH) sank on Friday after the company provided disappointing guidance as part of its third-quarter report. Restoration Hardware beat analyst estimates for the third quarter, but its lackluster outlook sent investors to the exits. At 10:45 a.m. EST, the stock was down about 16.5%.
So what
Total revenue rose 3% year over year to $549.3 million during the third quarter, about $22 million higher than the average analyst estimate. Stores produced 9% revenue growth, with direct sales dropping by 3%. Comparable brand revenue declined by 6%, reflecting continuing challenges facing the company.
Non-GAAP earnings per share came in at $0.20, down from $0.65 during the prior-year period but $0.04 better than analyst expectations. The earnings decline was driven in part by a drop of 3.8 percentage points in gross margin as a result of markdowns aimed at clearing seasonal merchandise and reducing the total number of SKUs. Operating expenses jumped 10% despite the sluggish revenue growth.
Restoration Hardware expects to produce fourth-quarter revenue between $562 million and $592 million, down from $647 million during the fourth quarter of last year. Non-GAAP EPS is expected between $0.60 and $0.70, compared to $0.98 during the prior-year period.
Restoration Hardware CEO Gary Friedman found plenty to blame for the company's weak results and guidance:
Now what
Restoration Hardware expects things to improve in 2017, driven by four new Design Galleries that opened this year, six new Design Galleries slated to open next year, the company's shift to a membership model, and its efforts to reduce inventories and its SKU count. Friedman was optimistic about the future:
With double-digit revenue growth in the recent past quickly transforming into steep revenue declines and crashing profitability, the stock is taking a beating. Investors don't seem nearly as confident that Restoration Hardware, to be known as RH effective Jan. 1, is capable of turning things around.
10 stocks we like better than Restoration Hardware When investing geniuses David and Tom Gardner have a stock tip, it can pay to listen. After all, the newsletter they have run for over a decade, Motley Fool Stock Advisor, has tripled the market.*
David and Tom just revealed what they believe are the 10 best stocks for investors to buy right now... and Restoration Hardware wasn't one of them! That's right -- they think these 10 stocks are even better buys.
Click here to learn about these picks!
*Stock Advisor returns as of Nov. 7, 2016
Timothy Green has no position in any stocks mentioned. The Motley Fool recommends Restoration Hardware. Try any of our Foolish newsletter services free for 30 days. We Fools may not all hold the same opinions, but we all believe that considering a diverse range of insights makes us better investors. The Motley Fool has a disclosure policy.