Why Shares of Restoration Hardware Sank 14% in June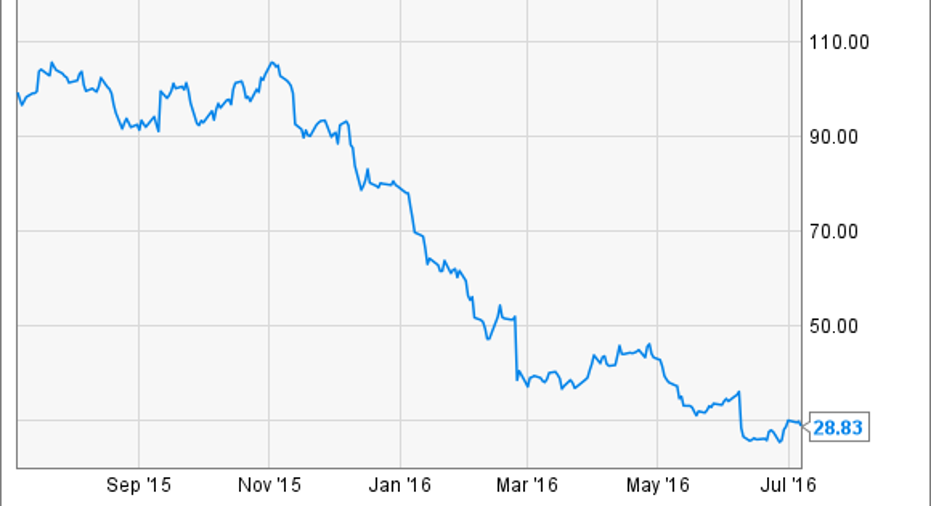 Image Source: Restoration Hardware.
What: Shares of furniture retailer Restoration Hardware fell 13.8% in June, according to data provided byS&P Global Market Intelligence. The company reported mixed first-quarter results in June 7, providing guidance that was well below expectations.
So what: Restoration Hardware reported first-quarter revenue of $455.5 million, up 8% year over year, and slightly higher than analysts were expecting. Comparable sales grew by 4%, while new stores accounted for the remainder of the company's growth. Non-GAAP EPS came in at a loss of $0.05, down from a profit of $0.17 during the prior-year period, and $0.10 shy of the average analyst estimate.
The real story was Restoration Hardware's guidance for the second quarter. The company expects revenue between $505 million and $520 million, below analyst expectations of $532 million. Restoration Hardware's earnings guidance was even further off the mark, with the company expecting non-GAAP EPS between $0.28 and $0.33. Analysts were expecting earnings of $0.80 per share.
For the full year, Restoration Hardware expects revenue growth between 1% and 3%, with non-GAAP EPS between $1.60 and $1.80. Both ranges were below previous guidance ranges provided by the company.
Now what: Not surprisingly, Restoration Hardware's dismal guidance triggered a handful of analyst downgrades. The stock has now lost about 71% of its value over the past year.
Various headwinds, including efforts to optimize inventory and production delays associated with the RH Modern collection, are responsible for the guidance shortfall. It's now clear that expectations were well ahead of what the company was capable of delivering. Restoration Hardware remains confident that it can reach $4 billion to $5 billion in sales with mid-teens operating margins in the long run, but the company's recent execution has been disappointing, to say the least.
The article Why Shares of Restoration Hardware Sank 14% in June originally appeared on Fool.com.
Timothy Green has no position in any stocks mentioned. The Motley Fool recommends Restoration Hardware. Try any of our Foolish newsletter services free for 30 days. We Fools may not all hold the same opinions, but we all believe that considering a diverse range of insights makes us better investors. The Motley Fool has a disclosure policy.
Copyright 1995 - 2016 The Motley Fool, LLC. All rights reserved. The Motley Fool has a disclosure policy.