Why Shares of Rent-A-Center Are Down 11% Tuesday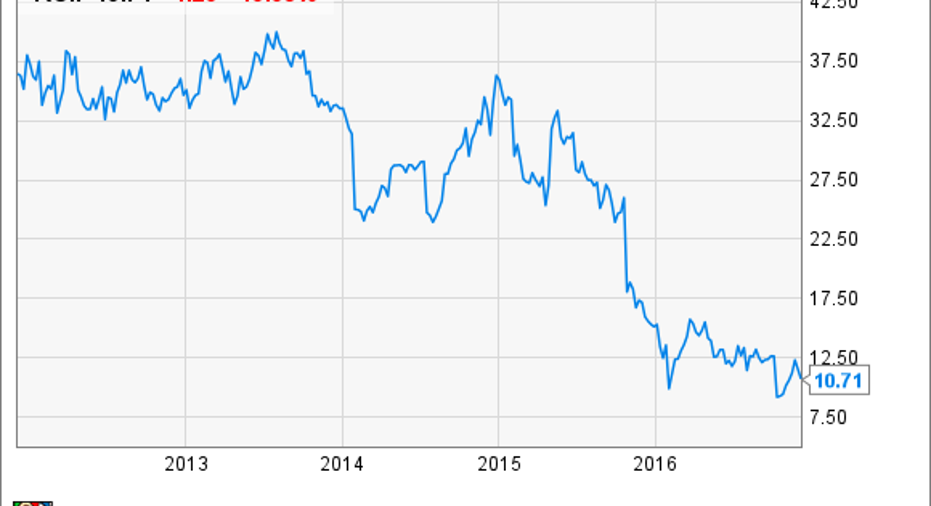 Image source: Rent-A-Center
What happened
Shares of Rent-A-Center (NASDAQ: RCII) are down 11% as of noon EST Tuesday, after a recent CFO resignation and analyst downgrade.
So what
Analysts at Raymond James downgraded Rent-A-Center from Strong Buy to Market Perform and removed the stock's price target of $16. This comes after recent news that Guy Constant resigned from his position as executive vice president and chief financial officer of the company. Taking on this role during the interim will be Maureen Short.
Now what
I'm bearish on Rent-A-Center, but this news seems like a non-event and today's drop a potential market overreaction, based on the information available at the time of this writing. The executives playing musical chairs really doesn't change the investment thesis of the company. As to the downgrade by Raymond James, it is, in my opinion, simply belated news. Furthermore, a glance at the company's price over the past five years suggests its investment thesis is one that hasn't convinced investors to buy in.
10 stocks we like better than Rent-A-Center When investing geniuses David and Tom Gardner have a stock tip, it can pay to listen. After all, the newsletter they have run for over a decade, Motley Fool Stock Advisor, has tripled the market.*
David and Tom just revealed what they believe are the 10 best stocks for investors to buy right now... and Rent-A-Center wasn't one of them! That's right -- they think these 10 stocks are even better buys.
Click here to learn about these picks!
*Stock Advisor returns as of Nov. 7, 2016
Daniel Miller has no position in any stocks mentioned. The Motley Fool has no position in any of the stocks mentioned. Try any of our Foolish newsletter services free for 30 days. We Fools may not all hold the same opinions, but we all believe that considering a diverse range of insights makes us better investors. The Motley Fool has a disclosure policy.