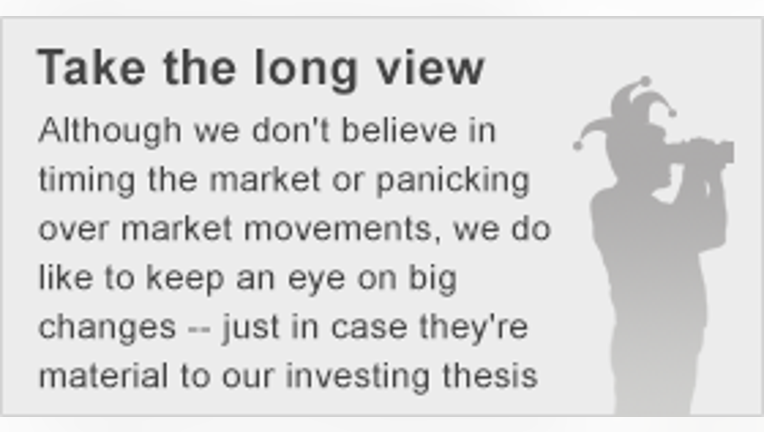 What: Shares of cloud infrastructure and hosting provider Rackspace tumbled in 2015, declining by 45.9%, according toS&P Capital IQdata. A series of disappointing earnings reports, as well as concerns about a cloud infrastructure price war driven by Amazon's AWS, weighed on the stock.
So what: Rackspace's problems began in May, when the company reported its fiscal first-quarter results. Earnings were in line with analyst estimates, but revenue came up slightly short of expectations, growing by 14.1% year over year. Revenue per server was flat compared to the end of the previous quarter, while the number of servers rose just 1%.
Rackspace's growth has been downright anemic compared to the numbers put up by Amazon's AWS. During Amazon's first quarter, AWS revenue soared by nearly 50% year over year, and growth accelerated to around 80% during the third quarter. Amazon has been aggressive about cutting prices on its core cloud infrastructure products, leaving smaller players like Rackspace in a tough position. Following Rackspace's first-quarter earnings report, the stock continued to slump, finally flattening out in October.
Now what: Rackspace has attempted to differentiate itself based on service. With the company unable to compete with Amazon on price, given the scale advantage that AWS maintains, Rackspace has made what it calls fanatical support the cornerstone of its business. For clients that need help transitioning to the cloud, and managing cloud infrastructure, Rackspace is banking on its superior support to counteract the allure of AWS.
Rackspace's strategy seems to make sense. Infrastructure-as-a-service is more a tool than a solution to a specific problem, and moving to the cloud isn't a trivial matter, particularly with many companies being dependent on legacy software. The cloud doesn't reduce the need for technical expertise, and Rackspace hopes that its support services will be attractive to enterprise customers.
Rackspace is still growing, but that growth wasn't enough for investors during 2015. Comparing Rackspace to AWS may not make much sense anymore, given Rackspace's focus on managed cloud services, as well as the recent deal between Rackspace and AWS that will see Rackspace provide tools and support for AWS customers. But with Amazon's AWS putting up incredible growth numbers in 2015, Rackspace's stock has suffered.
The article Why Shares of Rackspace Hosting Inc. Slumped 46% in 2015 originally appeared on Fool.com.
Timothy Green has no position in any stocks mentioned. The Motley Fool owns shares of and recommends Amazon.com. The Motley Fool recommends Rackspace Hosting. Try any of our Foolish newsletter services free for 30 days. We Fools may not all hold the same opinions, but we all believe that considering a diverse range of insights makes us better investors. The Motley Fool has a disclosure policy.
Copyright 1995 - 2016 The Motley Fool, LLC. All rights reserved. The Motley Fool has a disclosure policy.