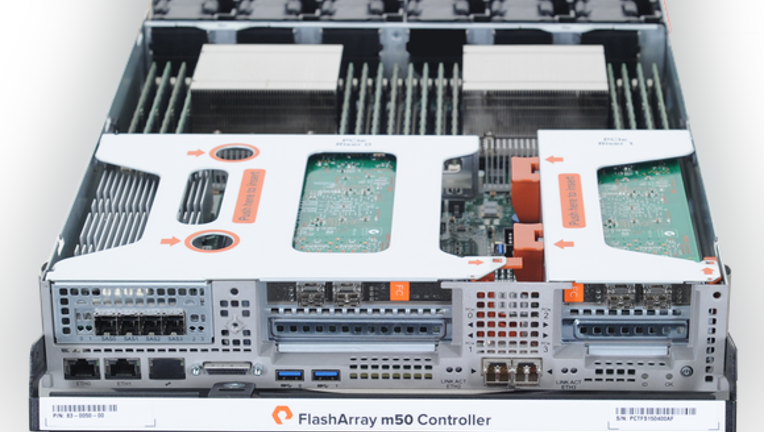 What happened
Shares of Pure Storage (NYSE: PSTG) slumped on Thursday after the company's fourth-quarter results were overshadowed by weak guidance. The stock was down about 11% at 2:40 p.m. EST.
So what
Pure Storage reported fourth-quarter revenue of $227.9 million, up 52% year over year and a few million dollars above the average analyst estimate. Pure Storage added 450 customers during the quarter, bringing its total customer count to 3,000. Notable customer wins include video-streaming company Hulu and restaurant chain Subway.
Image source: Pure Storage.
Non-GAAP EPS came in at a loss of $0.02, up from a loss of $0.12 during the prior-year period and $0.06 higher than analyst expectations. The company lost $42.9 million, or $0.21 per share, on a GAAP basis, a slight improvement compared to the prior-year period.
While Pure Storage continued its streak of revenue and earnings beats, the company's guidance for the first quarter was disappointing. It expects to produce revenue between $171 million and $179 million, up just 25% year over year at the midpoint and well below analyst expectations of $201.7 million.
Now what
Pure Storage expects to produce $1 billion of revenue this year, right in line with the average analyst estimate, but the weak first-quarter guidance will require growth to pick up as the year goes on. CEO Scott Dietzen sees opportunities going forward:
Shares of Pure Storage are now down about 50% since peaking soon after the company's IPO in late 2015. With growth expected to slow during the first quarter, and with profitability nowhere in sight, investors are clearly losing patience.
10 stocks we like better than Pure StorageWhen investing geniuses David and Tom Gardner have a stock tip, it can pay to listen. After all, the newsletter they have run for over a decade, Motley Fool Stock Advisor, has tripled the market.*
David and Tom just revealed what they believe are the 10 best stocks for investors to buy right now... and Pure Storage wasn't one of them! That's right -- they think these 10 stocks are even better buys.
Click here to learn about these picks!
*Stock Advisor returns as of February 6, 2017
Timothy Green has no position in any stocks mentioned. The Motley Fool has no position in any of the stocks mentioned. The Motley Fool has a disclosure policy.